As America's high school seniors in the Class of 2016 await the springtime decisions on their college applications, former First Daughter
Jenna Bush Hager
is opening up about her own college selection.
In a video for NBC News'
College Game Plan
, Hager says she chose the University of Texas at Austin primarily because that's where her group of trusted, loyal friends was headed – and at a "stressful time" when her father was running for president.
"I knew this great group of friends that I'd had forever ... so I kinda took the easier road. I wanted to be protected by them and I did feel really protected," the
Today
correspondent says.
High school seniors who filed regular – as opposed to "early decision" – college applications expect to get admission decisions from their choice schools in late March. Hager sounded nostalgic for the days she and her twin sister Barbara were in their shoes, but not all envious of the social-media era in which this new freshman class will be starting college.
"One thing
Barbara
and I constantly [say], 'Praise the Lord, yell Hallelujah at the top of our lungs that social media didn't exist.' Because we weren't perfect. And I don't think kids should be perfect. I think college is really a time, in a safe way, to make mistakes and explore who you are."
Talking for the first time about private, family decisions that were fiercely guarded by the Bush White House then, Hager proudly revealed that Barbara "applied to all Ivy Leagues, plus Stanford, and she got into every single one of them."
As for Hager's own college applications, she suggests with a laugh that she wasn't as confident or ambitious her sister. "I had a backup for my backup, plus, like, a reach for my reach. I applied to a lot."
The Bush sisters are featured on the cover of the new
Southern Living
magazine, where Hager is an editor-at-large.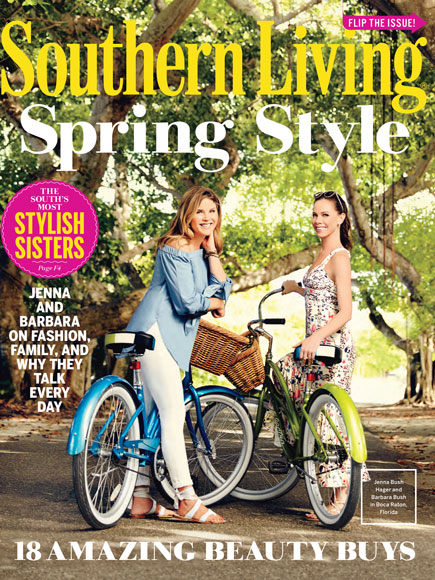 In the joint interview, the far-more-private Barbara says of Hager: "My sister brings such a spirit to her life. I laugh at everything she says. She has taught me that you can make any situation fun and exciting and also meaningful."