As Barbara Bush and Jenna Bush Hager grace the March issue of
Southern Living
, the sisters are waxing nostalgic about the easy, breezy days of childhood.
"Some of my favorite summer vacations were weekend getaways at our lake house in Athens, Texas," Jenna recalled.
"We stayed in a two-bedroom cabin that didn't have TV. We read, played outside, and took nighttime walks with Dad. That was the best."
The
close-knit twins
, 34, both reside in New York City, just blocks from each other, and are almost constantly in touch – "We talk at least 10 times a day," Jenna said.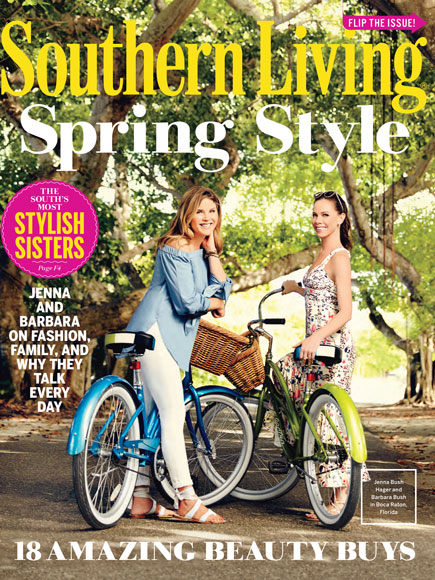 Barbara said that her younger sister – one minute younger, to be exact – brings "such a spirit to her life."
"I laugh at everything she says. She has taught me that you can make any situation fun and exciting and also meaningful."
Although the pair live in the northeast, Jenna said she and her husband
Henry Hager
are raising their children with strong Southern values.
"I want my kids to be kind. I want them to put others before themselves," she said.
"I also want them to know about Willie Nelson, Kenny Rogers and Johnny Cash – of course 'Aunt Dolly.'
"We always dance around the house to
Dolly Parton
."