Jennifer Aniston
and
Justin Theroux
joined
Sandra Bullock
and her
boyfriend
, Bryan Randall, for a star-studded double date in Austin this weekend.
The leading ladies dined at Bullock's popular Bess Bistro on Saturday, and celebrated like "close, fond friends," onlooker Rhonda Scott, a
luxury real estate agent
in L.A. tells PEOPLE.
"It was a nice intimate setting and the couples were very cozy," Scott observed. "They seemed to know each other very well, and seemed quite close."
Bullock and Randall, the 49-year-old photographer she
began dating
earlier this year, both attended Aniston and Theroux's intimate, surprise
backyard wedding
at their Bel Air home on Aug. 5.
"Sandra stood out in a pair of white shorts and a black top," Scott adds, noting that the table ordered the restaurant's famous shrimp and grits. "It was amazing to see those big stars in one room together," she says.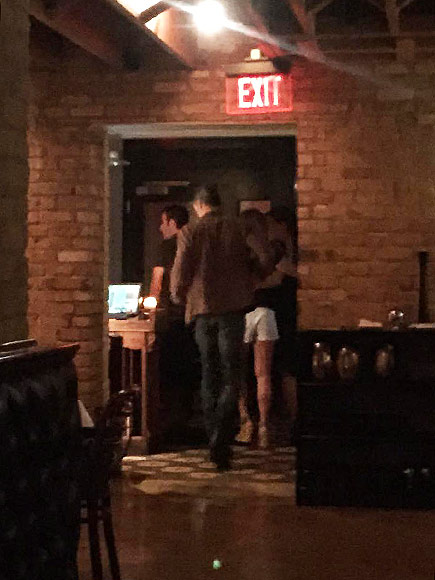 Justin Diamond, another onlooker at the restaurant, says that, "Jennifer Aniston and Justin Theroux were very handsy," and "every time she would put on her glasses to read a text message, Justin would caress her while she was on the phone."
Meanwhile, Bullock and Randall, "definitely looked close as well," Scott says. "The entire dinner he was rubbing her back with his hand and put his arm around her and was very affectionate," Diamond adds of Randall, who he describes as a "tall, gorgeous, silver fox."
Both onlookers observed that Bullock was "very animated" throughout the meal.
After dinner, Bullock left her friends and said her goodbyes to the Bess Bistro staff, who were gathered in the kitchen for a team meeting. Bullock's restaurant is closing its doors on Sept. 20, so Diamond says she took time to "thank everyone for their service over the years," which he thought was "very admirable of her."
On their way out of the restaurant, "Sandra slid her arm around Jen, gave her a big bear hug and then they walked out from the table to the door hand in hand, with their arms wrapped around each other."
Scott confirms that the two walked out arm in arm, and looked like, "they were having this cool, girl to girl talk with each other."