Jennifer Garner
is speaking out about her painful
split
from
Ben Affleck
for the first time – and she has a lot to say.
From addressing the
nanny scandal
to not being kissed in nearly eight months and of course, Affleck's
new tattoo
, Garner, 43, doesn't hold back.
Here are the nine biggest bombshells from the
Vanity Fair
interview.
On not being able to sleep alone:
Garner admitted that she's had trouble sleeping since the divorce, turning to watching television in bed at night to soothe her thoughts. "I need something to switch my brain off," she said, adding that her eldest daughter Violet has been sleeping in her room. "I am sleeping next to my daughter. I am happy to have her; she's happy to have me."
On Ben Affleck's alleged nanny affair (which he adamantly denies):
"We had been separated for months before I ever heard about the nanny," said Garner. "She had nothing to do with our decision to divorce. She was not a part of the equation. Bad judgment? Yes."
On avoiding the media circus following the split:
"I just won't do it anymore. I took a silent oath with myself last summer," she said. While some interpreted her silence as her being emotionless, but she says it's the opposite. "It hurts me so much, and I care so much." Instead, she remains focused on her kids and the "big picture," not letting anger rule her emotions.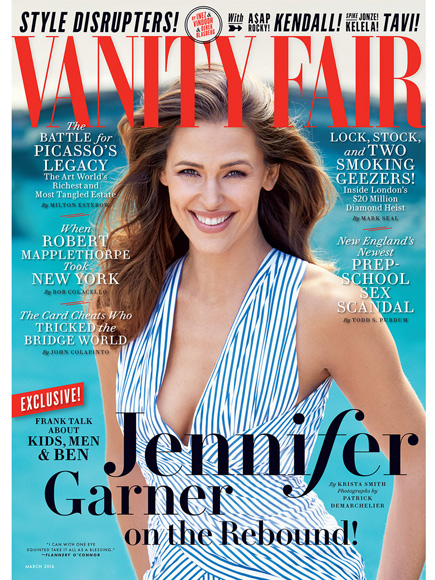 Patrick Demarchelier / Vanity Fair
On Affleck being the love of her life:
"I didn't marry the big fat movie star; I married
him
, she said. "And I would go back and remake that decision." Despite any heartbreak she's felt since their split, Garner said Affleck will always have a special place in her heart. "He's the love of my life. What am I going to do about
that?
He's the most brilliant person in any room, the most charismatic, the most generous. He's just a complicated guy"
On not being kissed in eight months:
The actress revealed that filming a love scene in her upcoming film
Wakefield
was the first time she had been kissed in nearly eight months – so naturally it felt a little strange. "It's nine in the morning and you think, I could really use a shot of alcohol."
On still turning to Affleck when things get tough:
"We still have to help each other get through this," she said. "He's still the only person who really knows the truth about things. And I'm still the only person that knows some of his truths."
On wanting Jennifer Aniston and Brad Pitt to get back together:
If there's one thing Garner can understand, it's secretly rooting for your favorite celebrity couple. She said she's not upset when those around her, including her fans, want to see her and Affleck figure out a way to make things work between them. "When Jen Aniston and Brad Pitt broke up I was dying to see something that said they were getting back together."
On getting asked out on a date:
While Garner probably
won't date
until the divorce is final, that certainly hasn't stopped a few brave souls from taking a shot – even in the airport. Garner recalled being asked out while standing in line for the bathroom before a flight. "I was so floored," she said, adding that she isn't so interested in modern-day romance techniques. "I want flowers; I don't want to text," she said. "What does that make me? What kind of dinosaur am I?"
On Affleck's full back tattoo:
Let's just say, Garner isn't a big fan. "You know what we would say in my hometown about that? 'Bless his heart.' A phoenix rising from the ashes. Am I the ashes in this scenario? I take umbrage. I refuse to be the ashes."