When
Chris Pratt
delivered a sweetly lame joke during a presentation at CinemaCon in Las Vegas on Tuesday evening, it was
Jennifer Lawrence
who suffered – literally.
In hyping their upcoming film,
Passengers
, to movie theater owners at Caesars Palace's Colosseum, Pratt said, "Whoever you called to order popcorn and soda stuff, double up the order right around Christmas, because you're gonna seek a lot of it. That was the joke."
The joke humorously flopped, but he was saved when his microphone dropped ... on Lawrence's foot.
"Ow, you dropped it on my foot," the 25-year-old actress exclaimed as the crowd of 4,000 erupted in laughter.
"That was the anti-
Kanye
," Pratt, 36, said. "I dropped the mic on your foot."
Lawrence, who went braless in a black tank top and Altuzarra skirt and
randomly sang
the chorus to
Billy Joel
's "The Longest Time" at one point onstage, joked that their off-script skit was going so poorly that tickets were "half off."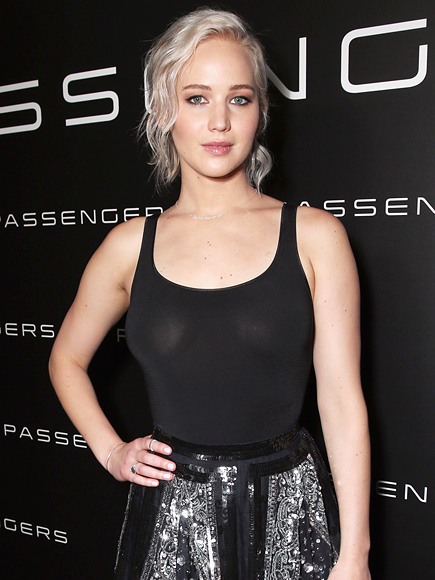 Pratt and Lawrence's upcoming film is not a comedy (perhaps thankfully), but rather a sci-fi film set in a future where a group of people are going into space to colonize a new planet. It takes 120 years to get to the planet, and passengers spend the journey hibernating.
Lawrence plays a writer who wants to travel there and back, and write about the experience. Pratt plays a mechanic.
Both Lawrence and Pratt jokingly emphasized that their characters "couldn't be more opposite" – because a Teleprompter told them to say that.
About 30 years into their onscreen journey, their hibernation chambers malfunction and they find themselves the only ones awake.
"As our characters rely on each other, they got very close," Lawrence said before an extended trailer of the film was shown to the audience.
"It's a thriller and it's amazing," Pratt added.
Passengers
flies into theaters Dec. 21.