Jenny McCarthy
is starting a new chapter of her life, leaving
The View
after just one season and preparing to
walk down the aisle
with financé
Donnie Wahlberg
.
Luckily, McCarthy – a
Playboy
model turned actress, activist and author – is no stranger to reinvention.
"When I first moved out to L.A. and I was a Playmate, I'd be asked, 'What do you want to do?' I'd reply, 'Comedy.' They'd say, 'Honey, that's funny. A Playmate in comedy? That's never going to happen.' But then I was on
Singled Out
," she says in the fall issue of
NEW YOU
magazine, on newsstands July 29.
"Later, I said I wanted to write a book and they said, 'That's hilarious. No one would pick up your book,' " she continues. "Now, I have 10 books. I almost enjoy the challenge. You tell me I can't do it? Guess what – I'm the rule-breaker."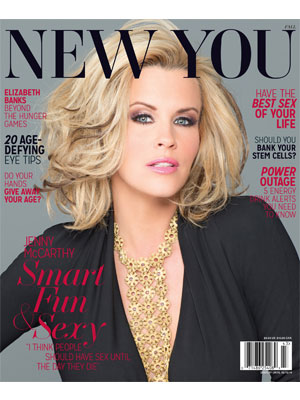 McCarthy, 41, also reflects on what makes former New Kids on the Block boy-bander Wahlberg, 44, The One.
"He's my mirror. Things were always unbalanced in my previous relationships – I've either been a teacher or a student," says McCarthy, who has
a son
with ex-husband John Asher and dated
Jim Carrey
for
five years
. "With Donnie, we're just equal. I have my own identity and goals and he has his, yet we're so similar we work on them together."
But McCarthy hasn't always gotten love from viewers. Reflecting on the "Twitter hate" she's weathered in the past for her
statements
connecting
vaccines
to autism (
No scientific study
has found such a link), she tells the magazine: "You have to be strong enough as a woman to voice your opinion, and sometimes you can get really beat up. … People are either with you or against you, and if you take a position and people don't agree with it, they can hate you for life. When really, it's just a position you hold, that has nothing to do with your personal self."
Inside Scoop: Jenny McCarthy and Donnie Wahlberg's Engagement