Jessica Springsteen
may have famous singers –
Bruce Springsteen
and
Patti Scialfa
– as parents, but the 24-year-old has taken a decidedly different path.
The Duke University graduate is a lifelong equestrian, now a professional show jumper, and she does it in style: Springsteen was previously an
equestrian ambassador for Gucci
.
Here are five things to know about Springsteen and her equestrian passion.
1. She's been on horseback for most of her life
"I started riding when I was really little. My mom had always wanted to ride so when we moved to New Jersey she started taking lessons," Springsteen tells PEOPLE. "Our home is right across the road from one of the top junior training barns – and I went right into that when I was a teenager."
Springsteen adds: "I started competing and doing the jumpers – then I turned professional. It all really happened pretty naturally."
2. She rides every day and competes every weekend this winter.
Springsteen is competing in Wellington, Florida, for 12 weeks at the Winter Equestrian Festival, where she just won a prestigious 1.50-meter jumper classic on Sunday.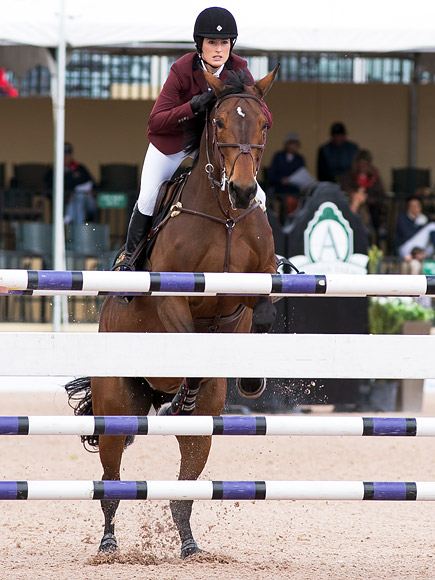 Aaron Gilbert / Icon Sportswire / AP
"We compete Wednesday through Sunday so you're pretty much there all day," Springsteen, who also does two to three shows per month during the summer, explains.
"When I'm not competing, I'm usually at the barn for maybe four hours," she adds.
3. She just got two new horses, and now owns seven.
Springsteen's newest additions are
Cynar
, a gray gelding and
Tiger Lily
, a chestnut mare.
"They're completely different," Springsteen says of her horses' personalities. "We joke about Tiger Lily because she's either like a tiger or a lily."
"She can definitely be a little frisky," Springsteen adds with a laugh. "Cynar is much more cool-headed. He's much more even and focused. You kind of know what you're going to get with him a little bit more."
And Springsteen admits the two are "so spoiled."
"I brought my parents to meet Cynar for the first time and I opened his stall – and he almost ran out looking for treats," says Springsteen, who will bring peppermints and carrots for them along with an occasional banana for Tiger Lily who is "a little bit more picky."
"They will mow you down trying to get food out of your hand," she adds.
4. Her famous parents go to a lot of her competitions.
"They make it to the shows as often as they can," Springsteen says. "When they're not here, they're watching online. I love having them with me."
"I think it's important to have your family support you," she continues. "It's definitely fun to have them around. They're the best supporters. They're always happy no matter how I do, which is nice."
5. Her goal is to compete at a future Olympics.
Springsteen made a bid for the Olympics four years ago while she was still in college and had "an amazing experience."
As for the future she says, "We kind of have to see how it goes." (Another professional show jumper with a famous last name and Olympic aspirations:
Georgina Bloomberg
!)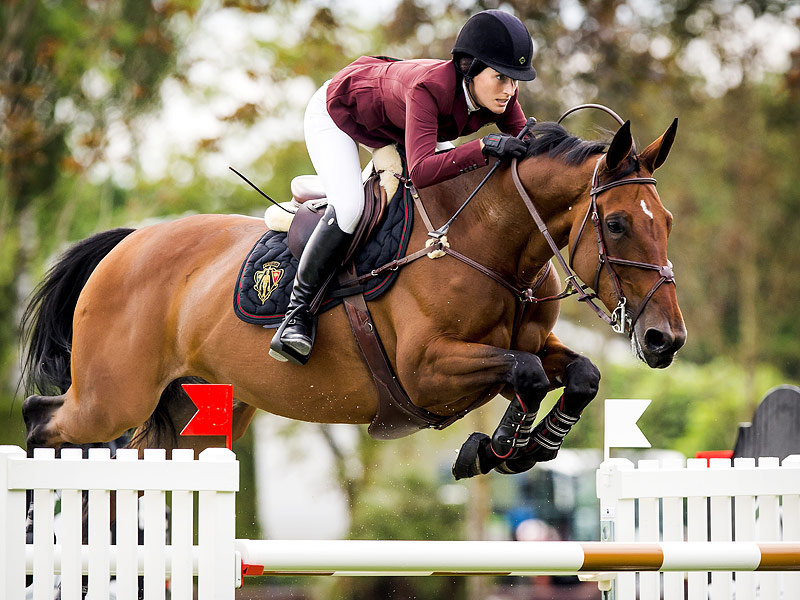 Koen van Weel / AFP / Getty
Says the equestrian, "It's so much about timing and having the right horse at the right time, and have everything going well, so it's definitely something that I'm working towards – and will continue working towards until I get there."