Jon Hamm
did not find success in Hollywood quickly or easily.
He waited tables for years, got dropped by his first agent and took any job in Hollywood he could find – including some truly odd ones.
"I was actually at that time working as a set dresser for Cinemax soft-core-porn movies," he tells
Vanity Fair
in its June cover story. "It was soul-crushing."
The revelation comes on the heels of
vintage footage
of Hamm that recently surfaced of his early days in Hollywood. In it, the young actor appears as a contestant on
The Big Date
, a dating game show where he promised the bachelorette "an evening of total fabulosity" – but which he did
not
win. (The bachelorette in question, Mary, is surely kicking herself nowadays.)
It's a far cry from the
Million Dollar Arm
star's runaway fame these days playing the dashing
Don Draper
on
Mad Men
, but Hamm's less than glamorous past seems to allow him to appreciate his present success.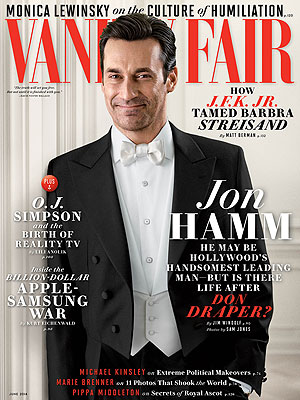 Sam Jones exclusively for Vanity Fair
"This is the best job I've ever had and maybe ever will have in my life – it's so fun to play all of this," he says. "It can be relentlessly dark. It can be terribly sexually inappropriate, is a way to say it. But who else gets a chance to do any of that stuff? There's so much there."