Talk about girl power! Joyce King and her family are showing that women can be tough too.
Joyce started arm wrestling competitively when she was 30 years old. She won a competition at a local bar in her native Canada, and made it all the way to an international competition, in which she placed third.
Now a grandmother, Joyce, 51, has passed on her passion for arm wrestling to her daughter Jessica, 28, and granddaughter Josie, 20, who have both won championships of their own.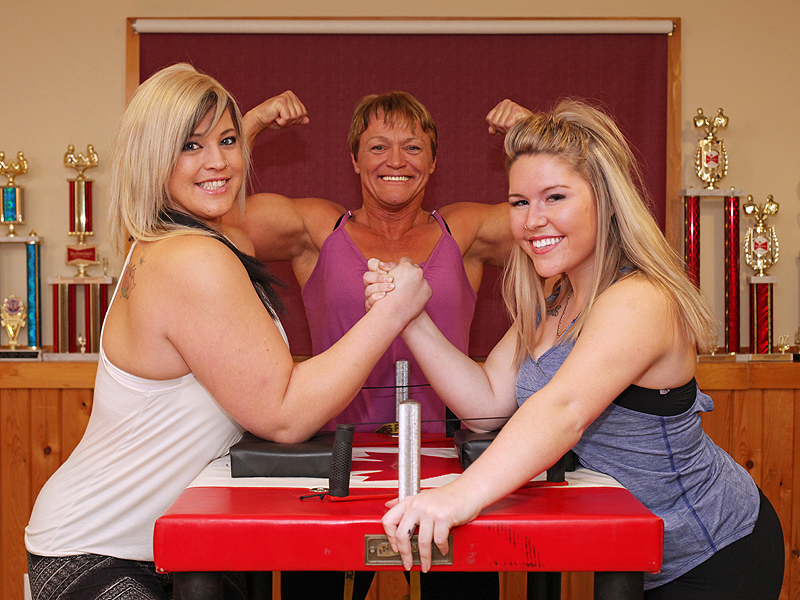 Ruaridh Connellan / Barcroft USA
"When our children were 11 and 12, we took them to local nationals," Joyce, whose son Cody, 28, also competes tells PEOPLE. "They did fairly well there, so they got hooked on it. They went whenever they could. Josie just followed along with everyone else once she got old enough."
Training for competitions has become a family affair. The Kings do strength training together three days a week with a personal trainer, and on Friday nights they gather together for "table time" to practice their latest techniques.
The King matriarch says although they're all naturally competitive, their weekly table time sessions are "more about learning than winning." But that is definitely not the case when Joyce faces off against her daughter Jessica during arm wrestling tournaments (Josie is in a different weight class).
RELATED VIDEO: Do Kangaroos Actually Box?
"When we're at an actual tournament, oh yeah we're competitive," says Joyce. "I told my daughter, 'You'll beat me someday, probably.' But if she ever does, she's going to know she did it on her own."
Joyce has won 13 world championships, while her daughter Jessica has won two world championships, and her granddaughter Josie has won two gold medals in Canada's national championships.
Joyce says she's proud to see her future generations follow in her footsteps.
"It's almost better than winning yourself, when you can see your children and grandchildren succeeding at something that you love as well," she says. "It's a good feeling."