Justin Bieber
is very good at singing, dancing, playing the guitar and petulance. But did you know there are other things he's very good at? (Like, literally
living in fire
, as in the above picture.) The world knows now, thanks to the majesty of that special window into Bieber's world, his Instagram account. Let's all take a look at the multitudes it contains.
Coloring
Look at how well he stayed in the lines of this sexy … anime … Native American lady?
Playing the Piano
He's also super-good at emoting while he plays the piano – check out the soulfully closed eyes!
Jamming
Look at him jam with his backing band! That means
this isn't even a real song they're playing
, they're making it up as they go! Wild!
Navigating the Wilderness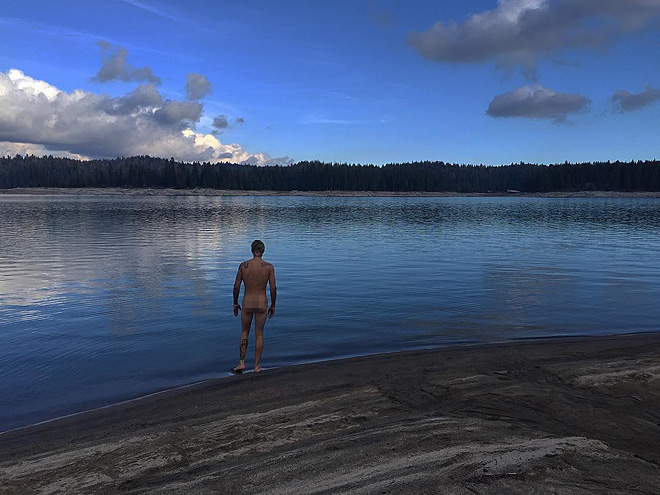 Source: Justin Bieber / Instagram
Would
you
be able to escape the wilderness while naked? Because that's what Justin did.
Fishing
Look at this fish he caught! And he maybe did it while naked?
Drumming
Remember when he played the drums in
that Calvin Klein ad
? That was so good!
Making Snow Angels
Look at how good this one is! Heaven is definitely missing an angel.
Pretending to Be An Airplane
We almost thought he was a real airplane!
Soccer
Cristiano
who
?
Hockey
More like Wayne
Who
?-sky, right?
Climbing Trees
He could have climbed much higher, but he just didn't want to.
Balancing on Rocks
He's on one foot!
Riding ATVs
He falls off sometimes
, but that's okay!
Gambling
Look at all the candy he's won!
Skateboarding
He falls down sometimes, but that's okay! It's all about the getting back up and trying your hardest – also something Justin is very good at!