Kanye West
and
Wiz Khalifa
are embroiled in a Twitter feud of epic proportions – and
Kim Kardashian West
and
Amber Rose
's names have been thrown into the mix.
It all started on Tuesday after West, 38, announced that he was changing the name of
his upcoming album
from
Swish
to
Waves
. Soon, Khalifa, 28, began criticizing the album title. "Please don't take the wave," he tweeted, following it up with a series of tweets alluding to the album.
But West remained silent until he thought Khalifa had tweeted about his wife Kardashian West. "Hit this kk and become yourself,"
wrote
Khalifa on Wednesday morning.
Several hours later, West
responded
: "Like, oh that's Ye and I can put his wife's initials on my twitter @Wizkhalifa."
That's when Khalifa
corrected West
and called him a "fool": "KK is weed fool. Reason's why [you're] not wavy. Go [back] to Swish."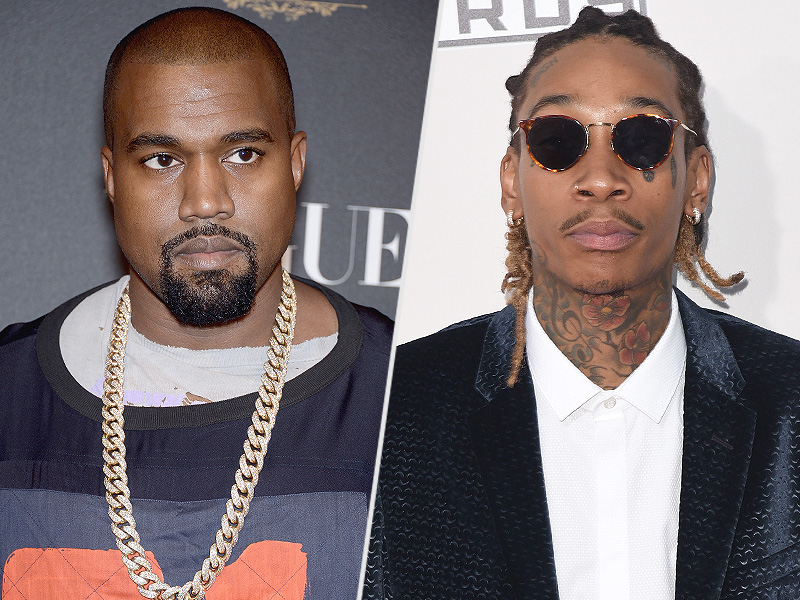 The feud eventually reached a fever pitch, with West seemingly referencing their mutual ex
Amber Rose
. "You let a stripper trap you," West
tweeted
, sandwiched between a list of critiques – and
fashion compliments
– aimed at Khalifa.
(Rose, 32, has been open about her past as an exotic dancer. "I was a stripper since I was 15 years old," she told
FOX411
in 2011. After her relationship with West ended in 2010, Rose married Khalifa in 2013 but divorced one year later.)
At one point, West mentioned Khalifa and Rose's son Sebastian, 2½, penning, "You wouldn't have a child if it wasn't for me," and "You own waves???? I own your child!!!!"
Khalifa bowed out early, leaving this final
tweet
: "I been smashed the idea of that album even existing. I got joints to roll @kanyewest."
West explained that he thought a good outcome could come of the exchange: He
wrote
, "Thank you for the extra promotion #WAVES available February 11th."
But he later decided to delete his tweets about Khalifa and offered this
explanation
: "Ima take these down cause it's all about positive energy blessings blessings positive energy blessings."
PRETTY FRESH https://t.co/fs5aJtxoOg pic.twitter.com/ewkqLNdMTZ

-- Kim Kardashian West (@KimKardashian) January 27, 2016
Kardashian West didn't get involved, instead sharing a
photo of herself
with the caption, "PRETTY FRESH," and a link to a post about her skincare regimen.
Meanwhile, Rose responded to West's comments with a
sexually explicit diss
aimed at West.
The "Bound 2" hitmaker didn't reply, but he offered one
last remark
about Khalifa: "Man it's a sad a day... Wiz lost 2 million followers since I tweeted I didn't mean to either him like that."
And West explained why the exchange had ultimately been a learning experience,
tweeting
, "I'm happy that I now know that KK means weed... please excuse the confusion ... now back to #WAVES."