Sitting aboard a Carnival cruise ship in Cozumel, Kathy Griffin has a lot to talk about.
There's the time she ran around naked in
Gloria Estefan's
backyard, only to have the paparazzi take photos. There's the time she confronted Sean Penn about his hair. And then there's the ongoing birthday tradition she has with
Cher
. (She brings Cher a cake every year. They each eat a piece. Then she takes the rest of the cake home. "She'll just waste it," Griffin tells PEOPLE. "And I'm against wasting cake.)
So who's one of her most recent celebrity run-ins? "Well, I may or may not have called
Leonardo DiCaprio
a 'man slut,' but I need everyone to know that it was totally said from a place of love," she laughs. "Although it's true."
Griffin is in the midst of her 80-city nationwide
Like a Boss
tour, but she spent last week entertaining on Carnival Cruise Lines – the first comic to do so. She performed on two shows on ships docked in Cozumel: The Carnival Fantasy on Feb. 24 and the Carnival Breeze on Feb. 25. (For more on her tour, check out
her website
.)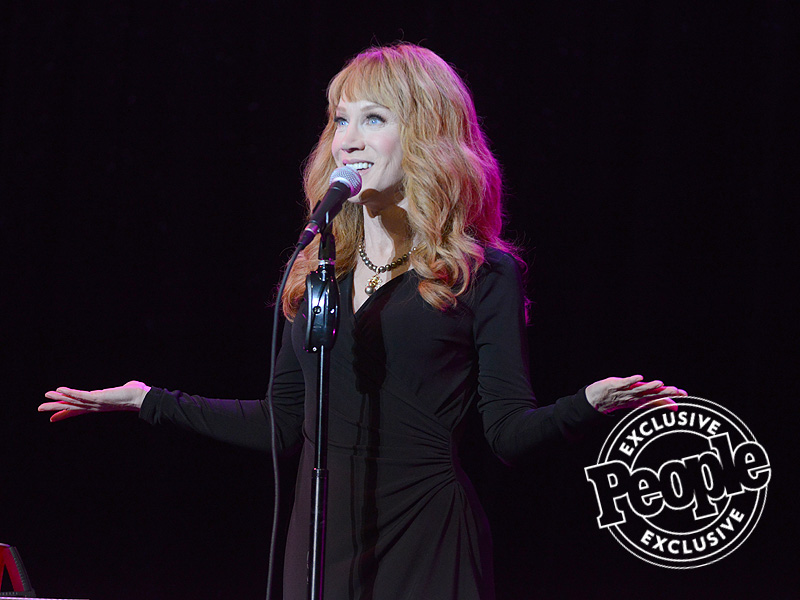 Before her show, Griffin, 55, told PEOPLE what audiences could expect.
"I've done gay cruises before, but this one is different," she says. "There are actual heterosexual people on this cruise. So I always tailor my material to fit the crowd. There are families here, but I hope no children come to my show. I'll escort them out myself, because my material is definitely not appropriate for children!"
There's a lot to talk about. "We've got Kanye West. I mean, there's so much material there."
"I try not to get too political in my act on a cruise ship, but it's hard," she says. "I mean, we have a presidential candidate who said – and I quote – 'I love the poorly educated.' He said that right after he said he wanted to punch someone in the face. I mean, how can I not talk about that? I mean, really. I'm sort of worried that Melania Trump is going to go punch Hillary or something."
And does she gain weight on cruises? "Oh, no," she jokes. "Not at all. I stopped eating in the '90s."
As for her 80-city tour, Griffin concedes that it can be grueling, but she loves to work. "I have so much to talk about," she says. "I work so much that
Chris Rock
asked me if I owe child support. But I just like to work!"