Goodbye Mrs.
Tom Cruise
, hello single-and-loving-it
Katie Holmes
.
The 35-year-old actress tells
Glamour
she's not dating right now, but that's just fine. She already has a great love in her life:
8-year-old daughter Suri
.
"I didn't know how much love I had in me. It's overwhelming," she tells fashion pal
Zac Posen
, who interviewed her for the magazine's
August cover story
. "Every day I discover more about this spectacular human being I get to be the mother of."
And when Posen dares to ask about her relationship status, Holmes, who
divorced Cruise
in 2012, is blunt: "I am really focused on motherhood and work right now."
Work currently includes a role in the
highly anticipated film version
of
The Giver
– alongside Meryl Streep – which hits theaters Aug. 15.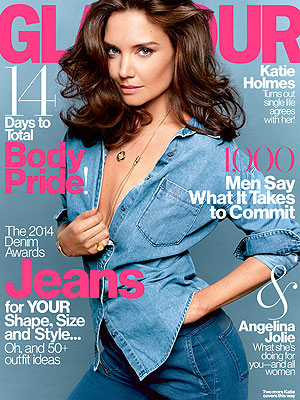 But when the cameras aren't rolling, Holmes sounds like a typical doting mother who indulges her daughter's movie tastes – and sweet tooth.
"I've seen
Frozen
a lot," she admits, while also sharing what she cooks for the fashion-forward New York City elementary-schooler.
"Plain pasta with butter is a hit. Chocolate-chip pancakes are a hit – together with chocolate-chip cookies. I do a homemade chicken finger. That's a hit," she says.
Also a hit? Her loving Ohio family, whom she credits with keeping her grounded.
"[My] family has been so crucial to my outlook on life," she says. "I started acting at 17 and had success at an early age, where all of a sudden people knew who I was. But my parents always treated me the exact same way at home and reminded me of gratitude. And that's been a grounding force."
All About Katie Holmess Life in New York City