It may seem like a backhanded compliment, but what
Keira Knightley
has to say about costar
Adam Levine
's acting debut is genuine praise delivered with British dry wit.
"He did play a d–head very well," Knightley tells
Glamour
for its July issue.
"Actually, I admire him being so willing. To play a d–head is quite a big thing when you are trying to break into film and you want to be likable," she says of PEOPLE's
Sexiest Man Alive
.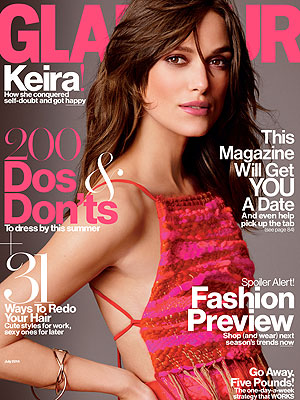 Knightley, 29, and Levine, 35, play a couple in the upcoming
Begin Again
– she's a songwriter, and he's a rocker who landed his first big recording contract. Also starring
Mark Ruffalo
, Catherine Keener,
Hailee Steinfeld
and
CeeLo Green
, the project is a departure from Knightley's heavier dramatic roles.
"With a feel-good film you are always risking going way too cheesy … but maybe I can have a little holiday where I'm not playing a character who is being destroyed," she says.
Knightley sings and plays guitar in the film, which makes her admitted stage fright seem even more surprising.
"I have
really
suffered from stage fright, or actually camera fright," she says. "[Because] you are presenting layers and layers of pretending, and it's not just you but other people in charge of your face or your body or your hair."
Levine has said he was also nervous while filming.
"I was worried, but I had to pretend like I wasn't," Maroon 5's lead singer
told PEOPLE in April
. "I kept thinking, 'I'm an actor. For this next two weeks, I am an actor.' I crossed my fingers and hoped it turned out fine."