Dierks Bentley
and
his wife
Cassidy are getting ready to attend their first
Kentucky Derby
on Saturday – and he's positively giddy over it.
The couple will be double dating with country singer Kix Brooks and his wife Barbara – but it's not the ladies who are having last-minute wardrobe worries.
"Kix is going to kill me for talking about this, but we've been going back and forth texting like a couple of girls! I'm all, 'What are you wearing?' And he's sending me pictures of things he's got pulled out," Bentley, 39, tells PEOPLE Country.
"So I went to a little preppy shop in Nashville and I'm taking pictures and sending them back to Kix like, 'What do you think of this?' "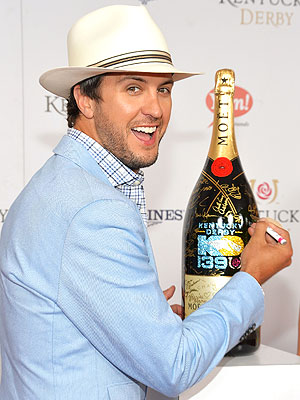 He jokes, "I told Kix, 'I'm deleting this thread as soon as it's over. It's embarrassing!' "
But Brooks isn't the only fellow country star Bentley has been reaching out to for advice on what to wear.
"I just texted
Luke Bryan
last night because I was looking at pictures online from last year," says Bentley. "Luke looked great! He made the full commitment."
So what can we expect to see Bentley in at
the big event
?
"I still don't know! I have a few options, but I can't go all the way Derby yet. I can't do pastels, I don't have great shoes and I'm still working on a hat."