Lena Dunham
is the
latest celebrity
to speak out about
Kesha
's
legal battle
with Dr. Luke, writing in her newest
Lenny newsletter
that the entire ordeal has made her physically ill.
"When I saw the outcome of Kesha's court case last Friday, I felt sick," Dunham, 29, wrote in Tuesday's email blast about the singer, 28. "Actually sick – I wanted to ask my Uber to pull over so I could throw up in a New York City trash can."
On Friday, Kesha's request for a preliminary injunction that would allow her to record and release music without Dr. Luke was denied by a New York Supreme Court judge. The "Tik Tok" singer alleged in a
2014 lawsuit
that the producer has been sexually, physically, verbally and emotionally abusing her since age 18. (Dr. Luke
publicly denied
Kesha's allegations on Twitter Monday, writing, "I didn't rape Kesha and I have never had sex with her. Kesha and I were friends for many years and she was like my little sister.")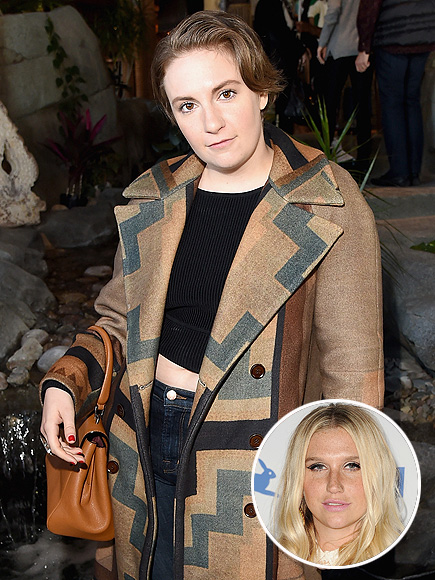 The new court decision means that Kesha will be forced to fulfill her contract with Dr. Luke's Kemosabe Records and deliver six additional albums – a reality Dunham can't accept.
"While the allegations of sexual assault and emotional abuse cannot be proven definitively, I think Kesha's words speak for themselves: 'I know I cannot work with Dr. Luke. I physically cannot. I don't feel safe in any way,'" wrote Dunham, before addressing Sony, the parent company of Kemosabe.
She wrote, "Let me spell it out for [Sony]. Imagine someone really hurt you, physically and emotionally. Scared you and abused you, threatened your family. The judge says that you don't have to see them again, but they still own your house. So they can decide when to turn the heat on and off, whether they'll pay the telephone bill or fix the roof when it leaks."
Dunham continued: "After everything you've been through, do you feel safe living in that house? Do you trust them to protect you?"
The
Girls
star said that Kesha's case "is about more than a pop star fighting for her freedom," and exemplifies failures in the American legal system that can lead to revictimization.
"What man, what company endeavors to keep a woman saddled with someone who she says has caused her years of trauma, shame, and fear?" Dunham wrote. "Fighting this fight publicly and in the legal system has already changed the course and tenor of her career forever."
Dunham also noted the "public outcry" surrounding the judge's decision, which has inspired stars like
Demi Lovato
to
voice concern
and
Taylor Swift
to lend a helping hand. (The
1989
singer
donated
$250,000 to assist with Kesha's financial needs, Swift's rep announced over the weekend.)
"We are not scared anymore of losing what we worked for, of being branded hysterical or difficult, of being targeted and silenced by men in power," Dunham wrote. "The women in the music industry speaking out for Kesha are proof. And their words will reverberate, inspiring the young women watching them for clues about the good life to speak up too. Soon, no one will accept shame and fear as the status quo."
In a
statement released to the press
Monday, Dr. Luke's attorney asserted the ruling does not stop Kesha from making new music. "The New York County Supreme Court on Friday found that Kesha is already 'free' to record and release music without working with Dr. Luke as a producer if she doesn't want to. Any claim that she isn't 'free' is a myth."