As the clock counts down (and the gifts – a
puppy
! a
$189,000 Mercedes-Benz Maybach
! a
customized "King Kylie" bouncy castle
! – have been pouring in before
Kylie Jenner
's 19th birthday on Wednesday, let's take a look back at the gifts lavished upon her for her big 1-8.
The youngest member of the Kardashian-Jenner clan celebrated officially becoming an adult last Aug. 10 with a
major blowout
, which was attended by her family,
Gigi Hadid
and
Joe Jonas
,
Zayn Malik
and more.
Since her friends and family famously don't do anything small, her present haul was always going to be a tiny bit more impressive than the average teenager's. So how much swag
did
Kylie take home?
Birkin Bag from Kris Jenner ($11,000-$15,000)
The day before her birthday, momager
Jenner
kicked off the celebrations early with a
coveted Hermès Birkin bag
. Consider it a Kardashian rite of passage.
Performances from Fetty Wap and Post Malone ($25,000)
While simply getting to dance to summer hit "Trap Queen" would be enough for most teens, Jenner took things to the next level, enlisting the rapper himself to perform along with up-and-comer Post Malone, who's best known for the song "White Iverson."
Two Custom Birthday Cakes ($57 and up apiece)
No ice cream cake for King Kylie! In addition to a white buttercream-covered
confection
, complete with
a chocolate heart
, Jenner also tucked into a custom-designed cake in the shape of her envy-worthy lips and gold grills.
Private Jet ($5,000-$12,000 per hour)
After all that celebrating, a girl needs a vacation, so Jenner naturally set off for a relaxing getaway in her very own private jet. What? Even her
Popeye's biscuits
don't fly commercial.
A Ferrari 482 Italia ($320,000
)
Clearly, Jenner's boyfriend
Tyga
also subscribes to the "go big or go home" ethos, and go big he did. At Jenner's 2015 party at Bootsy Bellows, he gifted his girl with a
brand-new white Ferrari
. We're lucky if our boyfriends remember our birthdays!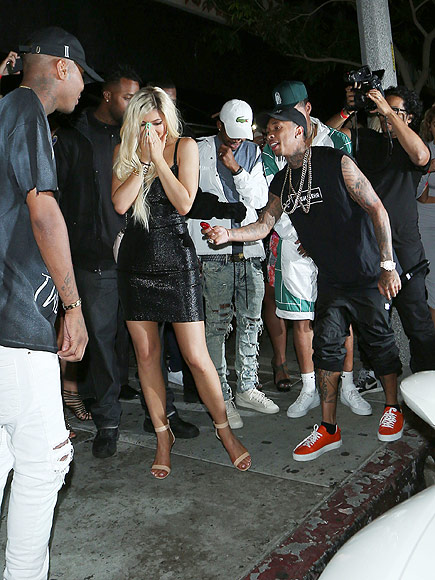 Zayn Malik's Presence (Priceless)
Malik
made an appearance
at Jenner's bash, thus officially making it the party of the year. Once a member of
One Direction
is involved, you've officially made it.
Kendall's Booty (Also Priceless)
The weekend before her birthday, Jenner's older sister
Kendall
started the gifting spree early with the greatest gift of all: an artsy, black-and-white shot of her supermodel behind. If only we were all so lucky ...
Total Cost: Around $400,000
Will Jenner's 2016 total be able to tally up to what she collected on 18th? Something tells us the chances are good ....