Lamar Odom
is slamming reports that he
ambushed and verbally attacked
ex-wife
Khloé Kardashian
outside a SoulCycle studio in Beverly Hills, California, early Wednesday morning.
"I am not the person that they're trying to make me out to be," he
vented to a TMZ cameraman
, denying that the reports that he had been following his ex-wife. "You know I know Khloé. You know I know her. So how would you think I ended up there? … So was there a address or a place given, or I just guessed right? Did I just guess right, where this girl may be, that I know?"
"Nobody got followed, nobody got hassled, nobody got harassed, nobody got grabbed on, none of that. I don't believe in following people around," he continued. "I don't Twitter. I don't Instagram. Me and that girl fell in love. That's our business. … Do not disrespect my space, do not disrespect my character, because that's what y'all been doing. And from day one, even if half the things were true, even if half of them were true, people know who I am and y'all have discredited me, beat me down, took my confidence, took everything away from me."
Odom went on to defend himself against reports portraying him as a "womanizer" and a "drug addict."
"It's hard for me to keep my composure. To everybody I know and that supports me, I'm sorry, but it's just it, the dog has to bite back. That's it. Y'all beat me down, degraded me, said I would do everything in the world. I'm a womanizer, a f---ing drug addict, everything. I probably couldn't even get f---ing hired by Home Depot right now because of how people look at me. It's over."
RELATED VIDEO: Lamar Odom Had 'Issues' with Khloé Kardashian's New Romance Prior to Alleged Verbal Attack, Says Source
Kardashian
filed for divorce
from Odom in December 2013 after four years of marriage. The two were estranged for some time before
divorce papers were finally signed
in mid-July.
In the last month, Kardashian, 31, has been linked to 25-year-old Houston Rockets player James Harden. The two
celebrated the Fourth of July together
at a Vegas club and most recently cozied up at
Kylie Jenner
's
birthday party
at West Hollywood nightclub Bootsy Bellows on Sunday.
At one point in the evening, Kardashian, wearing a tight black cutout dress, leaned toward Harden, seemingly to plant a kiss on the basketball player's lips.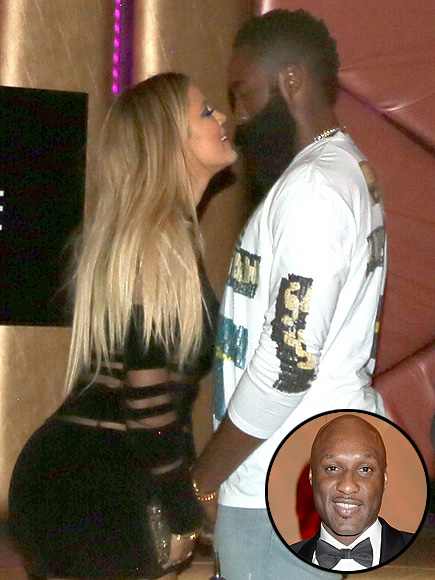 Brian Prahl / Splash News
Sources previously told PEOPLE that Kardashian's new relationship
was a factor
in Odom's
alleged verbal attack
on the
reality star
Wednesday.
"Lamar has been trying to contact Khloé, but she is done and has ignored him. Lamar has issues with Khloé dating [James] Harden,' a source said.
The source added that Kardashian was "thinking about getting a bodyguard" after the alleged incident.
"It made Khloé first shocked and scared that Lamar was waiting outside the studio," the source said. "She doesn't know how he found her."
Kardashian's motto, she wrote on Instagram, is "family over everything" – and she clearly has her sisters' support.
•
Reporting by Elizabeth Leonard