Khloé Kardashian
's new relationship with basketball player James Harden was a factor in
Lamar Odom
's alleged
verbal attack
on the reality star, sources tell PEOPLE.
Odom is alleged to have confronted his
ex-wife
on Wednesday morning outside a SoulCycle class in Beverly Hills, California.
A source close to the
reality star
tells PEOPLE, "Lamar has been trying to contact Khloé, but she is done and has ignored him. Lamar has issues with Khloé dating [James] Harden."
"It made Khloé first shocked and then scared that Lamar was waiting outside the studio," the source added. "She doesn't know how he found her. She is thinking about getting a bodyguard."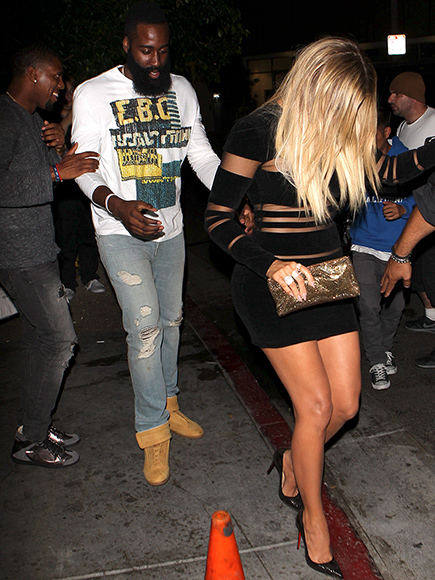 Kardashian's sister
Kim Kardashian West
also appears to be concerned for her safety.
A source close to Kardashian West tells PEOPLE, "Kim is encouraging her to get a bodyguard. She told Khloé that his behavior is inappropriate, and she needs to nip it in the bud before it escalates,"
"Khloé is in full agreement, and they're going to start looking into private security right away. Kim says that there's no reasoning with Lamar right now, so it's better to be safe than sorry."
RELATED VIDEO: Lamar Odom Had 'Issues' with Khloé Kardashian's New Romance Prior to Alleged Verbal Attack, Says Source
Harden, 25, who plays for the Houston Rockets has been spotted out with the 31-year-old reality star multiple times over the last month. Most recently, the couple celebrated Kylie Jenner's 18th birthday together.
Kardashian's best friend, Malika Haqq, shared a photo on Instagram featuring Kardashian planting a kiss on Harden's cheek during the youngest of the Kardashian crew's birthday bash on Sunday.
The pair also celebrated
Fourth of July together
at a Las Vegas club. Kardashian and Harden spent the holiday at Encore Beach Club after a day of hanging with friends Jermaine Dupri, former NBA star Rick Fox and Kardashian's BFF Haqq.
Lamar Odom Allegedly Ambushed Khloe Kardashian On Her Way To The Gym
Just days after their Fourth of July outing, the couple were spotted back in L.A. at a
West Hollywood spin studio
. She shared a
photo
from the workout session of herself and Harden along with Nichelle and Aaron Hines, who appear on the E! series
Hollywood Cycle
.
Kardashian
filed for divorce
from Odom in December 2013. The two were estranged for some time before
divorce papers were finally signed
in mid-July.
"Such a crazy day!!! Very emotional! Thank you all for being so loving and supportive," Kardashian tweeted once the divorce was finalized.
•
Reporting by STEVE HELLING