Macaulay Culkin
is moving up from former child star to Web obsession, thanks to a series of entertainingly bizarre antics.
First, the 33-year-old debuted
Pizza Underground
, a group known for rewriting all of the Velvet Underground's songs as
musical odes to pizza
. And now, Culkin is initiating an online fashion battle with meme darling
Ryan Gosling
.
On Sunday, the artist formerly known as Kevin McCallister posted a picture of himself sporting sunglasses, scraggly blond locks and a special piece of clothing. Culkin's T-shirt bears an image of Ryan Gosling wearing a shirt with the child star's
Life
magazine photo on the front. Culkin posted the shot with the text "Let's Get Meta." Meta, indeed.
Before this T-shirt wormhole burrows deeper into the Web, here's its evolution:
The Origin
Without Culkin's adorable domination of the '90s, there would be no reason for
Life
to take photos of the towheaded rascal, making Gosling's T-shirt void.
The First Move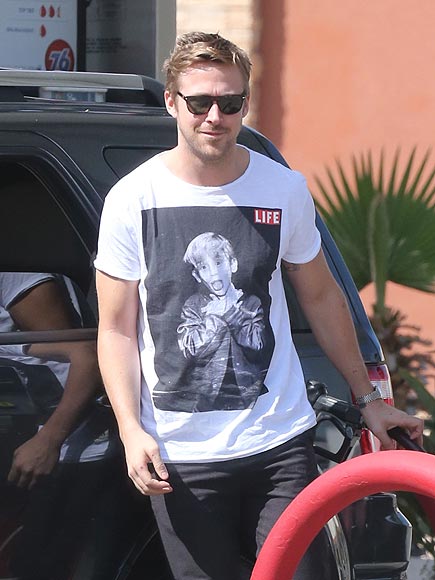 Luckily, movies like
Home Alone
and
My Girl
made Culkin a pop-culture sensation worthy of commemorating with merchandise, such as the shirt Gosling wore last year.
The Meta Move
Let's get meta #ryangosling #macaulayculkin #shirt #pizzaunderground #mug pic.twitter.com/1SP8IZbKZM

— pizza underground (@cheesedayz) May 11, 2014
Culkin has now informally challenged Gosling to a duel of self-aware clothing. Will the fellow child actor respond?
Going Deeper
The matrix #ryangosling #macaulayculkin #infinity #shirt #pizzaunderground pic.twitter.com/f7F6OAPFJV

— pizza underground (@cheesedayz) May 12, 2014
Culkin was kind enough to dream up a next move for the Canadian heartthrob. Make it happen, Gosling.
No, Even Deeper
Thanks to the Photoshop work of the Internet, it's easy to see this T-shirt exchange become a rabbit hole that seemingly has no end. And we're totally okay with that.
Like us on Facebook for more stories like this!