Macklemore
and
Ryan Lewis
address race relations in "White Privilege II" – but the message has been misconstrued.
In the duo's new song, 32-year-old Macklemore name drops other stars, rapping, "The culture was never yours to make better – you're
Miley
, you're Elvis, you're
Iggy Azalea
." Over a month after the song led to a
fallout
with Azalea, 25, Macklemore further
explains the lyrics
in the musical duo's new
Billboard cover story
.
"I don't think people understood that I'm in my own head [saying], 'You're Miley, you're Elvis, you're Iggy Azalea' – I'm talking about myself," Macklemore (né Ben Haggerty) shares.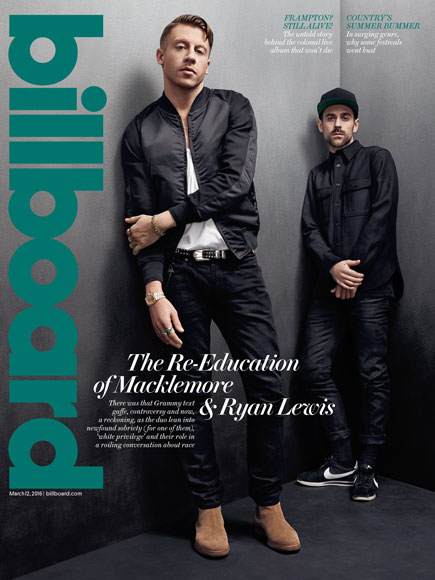 And he regrets not reaching out to Azalea, who later
tweeted
, "He shouldn't have spent the last 3 yrs having friendly convos and taking pictures together at events etc if those were his feelings."
"Iggy and I came up together," Macklemore tells
Billboard
. "We were on the
XXL
'Freshmen' cover together. There's enough of a relationship that I should have let her know beforehand. And I didn't do that."
Still, "I haven't talked to her," he says.
With their new album
This Unruly Mess I've Made
out now (you can listen
here
), the guys who gave the world
"Same Love"
sat down with the trade publication about their new chapter. Read on for what Macklemore has to say about his controversial moves and decision to be sober.
On the fallout over winning rap album of the year at the 2014 Grammys and telling Kendrick Lamar he "got robbed":
"When you mess up publicly, it can be difficult to get vulnerable again or to put yourself out there. You're like, 'Whatever I say in the media, they're going to take it [a certain] way" – it becomes about another artist, and the intention is never received in the way it was intended."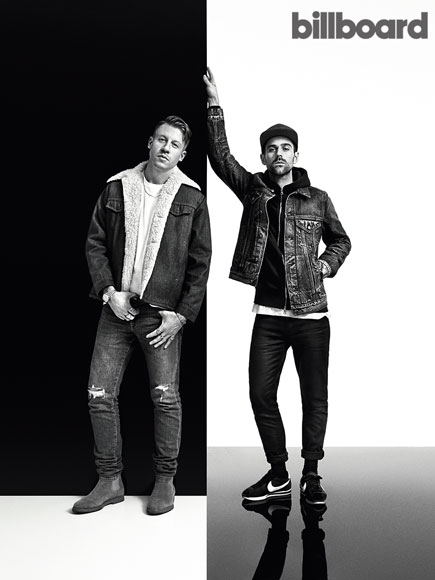 On addressing Michael Brown's death in Ferguson, Missouri, when a grand jury decided to not indict former police officer Darren Wilson:
"The night of the nonindictment was the biggest one in terms of realizing I had been silent [about racism] out of fear. I had been silent out of not wanting to mess up, out of a fear of saying the wrong thing. If I said the wrong thing, that would be a bigger story than me supporting it."
On how an unidentified legacy rapper advised him to take a public stand on race relations, after which he sought a six-month seminar:
"He told me that silence is action, and you are being silent right now. That was a big turning point for me."
On becoming sober before welcoming daughter Sloane Ava Simone, 9 months, with wife Tricia Davis:
"There was so much fear starting this album, with the relapses and putting it off and expectations. Sobering up, knowing that I was going to be a father ... starting an album was a very daunting task, to say the least."
On not smoking marijuana in over a year and a half:
"If it wasn't for sobriety, we would not be talking right now. There would be no
Unruly Mess
to discuss. There just wouldn't be any music."