Growing up in San Fernando, California, Jesus Bruno never expected to go to college. Between working three jobs and helping to raise his two younger brothers, just finishing high school was looking like a long shot.
Then, his art teacher Manny Castellanos asked him to join Lakeview Charter High School's cross-country team.
"He told me if I could finish a marathon, I could finish anything," Bruno, now 20, tells PEOPLE.
Castellanos was right. Now a sophomore at Mission College studying child development, Bruno credits his coach with giving him the confidence he needed to achieve what once felt impossible.
"If he believed I could do it, then I had to believe it too," he says.
Castellanos believed in his former student because he's been there himself. Raised in the same San Fernando neighborhood – where the threat of gang violence often kept him confined to his home – Castellanos took up running as a teen because it gave him a much-needed sense of freedom.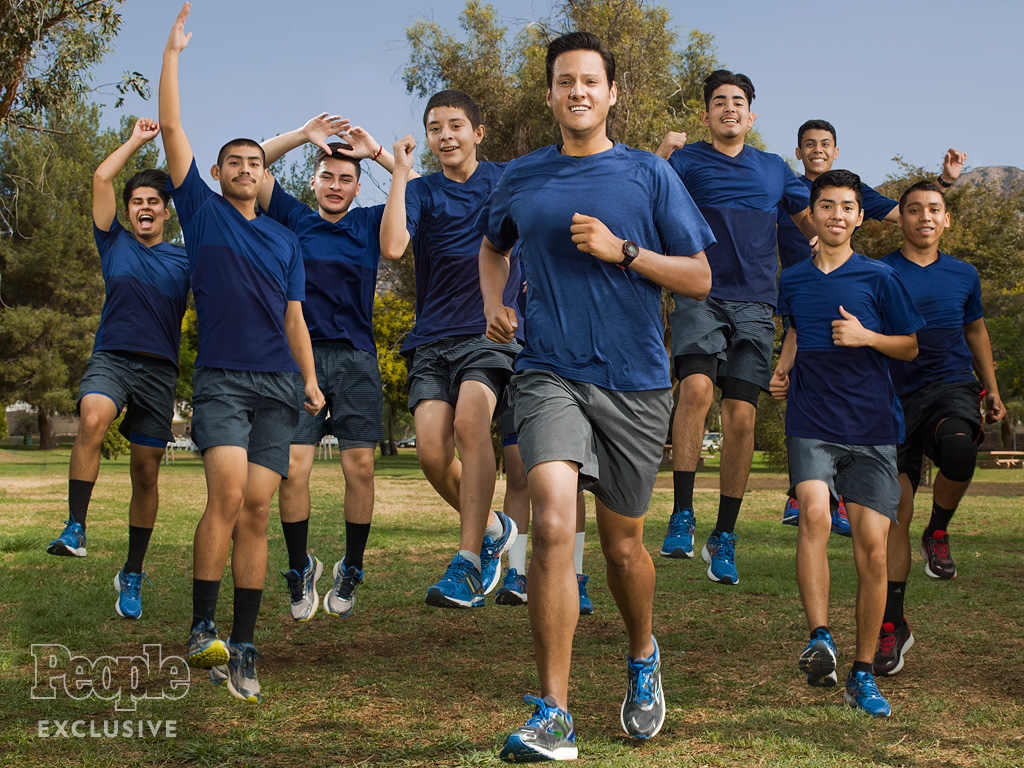 Photograph by Gregg Segal Photography
His daily runs – always at dawn, so his parents, a construction worker and hairdresser, wouldn't know he'd gone outside alone – became "like therapy. It transformed my life," the 29-year-old says. "Running allowed me to discover my own strengths, sense of self and just how capable I was of changing a situation through my own actions."
Castellanos went on to become a first-generation college graduate, earning his B.A. and master's degree from California State University, Northridge before returning to teach in his hometown in 2012.
"I cannot see myself working anywhere else at the moment, there is just too much work to do here," he says.
Castellanos does much of that work himself. At Lakeview Charter High School, he teaches visual art, coaches cross-country, soccer and baseball and runs the school's marathon club – taking extra time to mentor his most enthusiastic cross-country athletes.
"My goal is to make them realize that they're capable of more than they think they are," he says. "A marathon is one way they can learn that – it helps them realize that they can do anything that they set their minds to."
Castellanos' enthusiasm for the sport is catching and has fostered an environment in which students support one another.
"Running at school has given me a family," says Lakeview Charter graduate Steve Garcia, now studying at the University of California, Berkeley. "Everyone pushes each other to get better and improve."
Last year, Castellanos' athletes gave back to their coach, nominating him for the Brooks Inspiring Coach of the Year award. The team's touching video tribute won Castellanos the title, and $10,000 in gear for his team. "It means the world to me that we'll be able to provide proper running shoes to students who can't afford them," he says.
Even more gratifying was hearing what a difference he's made in his students' lives. "I had tears in my eyes," he says. "I was shown how much love they have for the sport and for me and I try to give that back every day."