Despite the tragic football accident 30 years ago that damaged his spinal cord and left him paralyzed, Marc Buoniconti believes he is a lucky man.
While confined to a wheelchair, he is still alive because the money raised by
The Miami Project to Cure Paralysis
and its fundraising arm, The Buoniconti Fund, has allowed him to receive the best medical care in the world.
"I would not be here today without the great treatment I have received here in Miami," Marc, 49, president of The Miami Project, tells PEOPLE.
A patient of renowned neurosurgeon Dr. Barth Green, who specializes in spinal cord injuries, Marc knows the money raised over the years for research and experimentation has helped keep his condition stable.
"I have been fortunate to have the care that others didn't," he tells PEOPLE. "When we started, we had nothing but hope and maybe a 20-year life expectancy. Now we have 12+ active clinical trials targeting both spinal cord and brain injuries. I am involved in the research and still hopeful."
In October 1985, the handsome 19-year-old Citadel linebacker, who a week earlier had been voted the team's most valuable player, saw his life take a tragic turn after he tackled a runner. The son of NFL Hall of Fame linebacker Nick Buoniconti, Marc crushed his spinal cord and knew he had broken his neck.
Lying on the ground barely breathing, he felt like he was suffocating and could barely utter a sound. He was gently placed on a stretcher and taken to the hospital where doctors shoved a painful tube down his throat and put him on a respirator, the machine that kept him alive.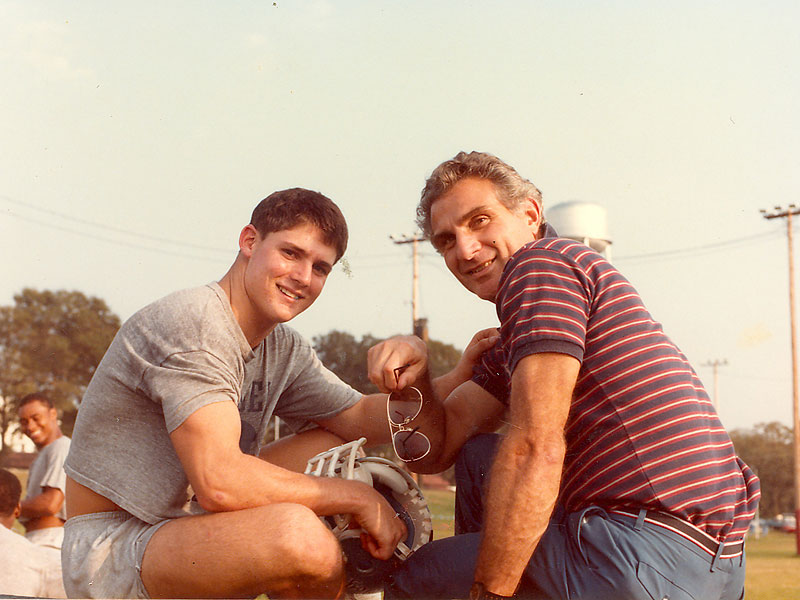 Courtesy The Buoniconti Fund
The young athlete was told that he would have no use of his body from the shoulders down, rendering him a quadriplegic.
"When they told me I would have to spend the rest of my life on a respirator, I was devastated," he told PEOPLE at the time. "And my dad broke down and cried."
But with his family's support and Dr. Green's encouragement, Marc learned to breathe on his own in just five months.
"It was a terrible process that I dreaded every day," Marc said. "But slowly my diaphragm started functioning. And by mid-1986, I was out of the intensive care section of the hospital and into the rehab facility."
Buoyed by his son's progress, Nick vowed "to never give up hope that Marc would walk again."
With Dr. Green, he immediately founded The Miami Project to Cure Paralysis. In 1992, he added The Buoniconti Fund, a non-profit, fundraising organization dedicated to assisting The Miami Project in achieving its goals.
National celebrity-filled fundraisers – and the out-of-the-box Miami Beach-based Destination Fashion events, which began in 2004 (they take place every 2-3 years) that mix fashion, sports and A-list celebrities with top notch entertainment – have created awareness and helped raise $400 million.
On Saturday, the progressive Fashion Destination dinner party will be emceed by
Today
's Savannah Guthrie. Held at Bal Harbour Shops, the multi-faceted event celebrates The Miami Project's 30th anniversary and the open air shopping mall's 50th anniversary.
Honorary celebrity co-chairpersons Brittany and Christian Slater, Dawn and Tommy Lee Jones and Gloria and Emilio Estefan will also be in attendance.
"Having experienced first hand what it feels like to hear the words, 'You may never walk again,' I vowed I would do whatever was in my power to help change the prognosis for people in wheelchairs,"
Gloria Estefan
, tells PEOPLE, referring to the 1990 accident in a tour bus that left her with a broken vertebra.
"I felt incredibly fortunate to be invited to join forces with the Miami Project/The Buoniconti Fund and their inspirational and tireless leader, Marc Buoniconti. Being part of this awe-inspiring endeavor has been one of the most fulfilling challenges that I have undertaken, and I will continue to do whatever I can to be of help until the cure for paralysis is a reality for everyone who has lost the ability to walk."
The gala, which this year has attracted 2,000 people who pay from $300-$1000 per ticket, features the theme of fashion trends, movies, TV and entertainment from the 1960s--2000s.
The evening also offers a performance by
Pitbull
, designer Brunello Cucinelli's spring fashion show presented by Neiman Marcus, an auction, program of community philanthropy awards, and a chance for guests to shop privately in the Bal Harbour stores, which are closed to the public during the evening event.
The success of Fashion Destination and other fundraising events for The Miami Project has changed the lives of the Buoniconti family.
"We have put The Miami Project in the fast lane and are determined not to let up the accelerator until we get Marc and millions of others in wheelchairs up and walking again," Nick tells PEOPLE of the research money raised from these events and from other granting organizations, corporations and private philanthropy.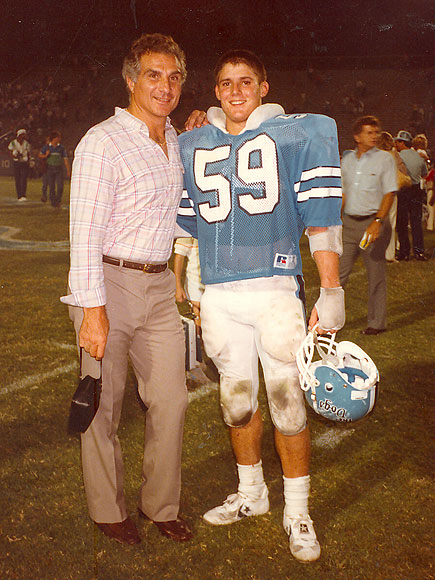 Courtesy The Buoniconti Fund
"We are taking advantage of the groundbreaking research of our incredible scientists. It has been 30 years since Marc was able to move his arms and legs. Our time is coming and the paralyzed community's time is coming because of the work of The Miami Project."
Indeed, The Miami Project, which costs $30 million a year to operate, is on the cutting edge of science. It is the world's most comprehensive spinal cord research center housed in the Lois Pope LIFE Center at the University of Miami Miller School of Medicine. The team of 300 international scientists, researchers and clinicians take innovative approaches to the spinal cord challenge and collaborate on their findings.
"We get calls from all over the world, and people fly here to get involved in our human clinical trials," says Stephanie Sayfie Aagaard, the hard-working Miami Project/Buoniconti Fund's events and marketing director, who heads Destination Fashion.
"Our work with hypothermia has helped many, including another football player who was injured and is now walking again. We have seen some dramatic changes thanks to the money we have raised for this research."
The Miami Project is also involved with cell transplants. Last year, the Food and Drug Administration gave them permission to continue the Phase 1 clinical trial to evaluate the safety of transplanting human Schwann cells in patients with acute (recent) spinal cord injuries to include those with chronic injuries.
These cells are found mainly in the peripheral nervous system and are essential to sending appropriate electrical signals through the nervous system.
"Our scientists believe they are key to finding cures for paralysis," Marc explains. "There are millions of people living with chronic spinal cord injury paralysis that will benefit from this experimental procedure. Never in the history of spinal cord injury research has the prospects of finding a cure for paralysis been better."
Marc finds this research so rewarding that its "revs up his engine." It gives him hope. He has lost a great deal of weight. He exercises, has a regular fitness regimen and does yoga to stay limber. Eschewing meat, he eats mainly chicken, turkey and fish.
"I give speeches, I am on the phone daily and am part of everything first-hand," he says. "Every day I wake up excited to move further."
Marc also believes that work on The Miami Project has brought the Buoniconti family closer together.
"Dad was a beaten man when I got hurt, but he put his passion for football into The Miami Project," he says. "Together we have been part of a positive force for change in the prognosis for paralysis."
While Marc has missed being on his feet and playing football – even though he warns younger players of its danger and to avoid head injuries – he is convinced that raising money and working on The Miami Project has been a blessing. He has been given an opportunity to be part of something vitally important to him and to others with paralysis.
"I have lived a better life than I would have before the accident," Marc tells PEOPLE.
"I had 19 years on my feet followed by 30 years in a chair. In my third phase of life, I hope to have the physicality of my first 19 years and wisdom of what I have learned for the past three decades. I want to put it to good use during the rest of my life."