Mario Lopez
has a lot to celebrate this month. The
Extra
host recently released
his memoir
,
Just Between Us
, and is ringing in his 41st birthday on Friday.
The fitness enthusiast and former
Dancing with the Stars
contestant has done a lot with his time in the spotlight, but many still remember Lopez as
Saved By the Bell
's friendly, flexing jock A.C. Slater. Since Slater was always a bit of party animal – he loved busting a move at The Max – we're taking a look back at some classic
Saved by the Bell
moments to honor Lopez's big day.
Throw on your neon windbreaker and add a little more volume to your hair, it's time to go back to Bayside High.
A.C. Slater: Beauty Queen
In season two, Slater and Screech decide to enter their school's Miss Bayside pageant. While Kelly Kapowski obviously kills it, Slater's beloved muscles turn out to be less of a crowd pleaser than he'd hoped. Try the Strongman competition next time, buddy.
Trouble in Paradise
In a season two episode aptly named "The Fight," viewers see one of TV's best bromances almost foiled by a female. After falling for the same girl, Zack and Slater exchange words and punches until they are pulled apart. Luckily, the split doesn't last for long and the guys are back on good terms by the next episode.
Slater Saves the Day
Slater may have meathead tendencies, but he also has a heart of gold. The Bayside wrestler took a stand against bullying – and helped Zack win an important bet – when he stepped in to stop a competitor from harassing Screech in the episode "Pinned to the Mat."
Happy Feet
While Lopez's Slater is a great hero, friend and fighter, the
Saved by the Bell
character is at his best on the dance floor. Hit it, A.C.!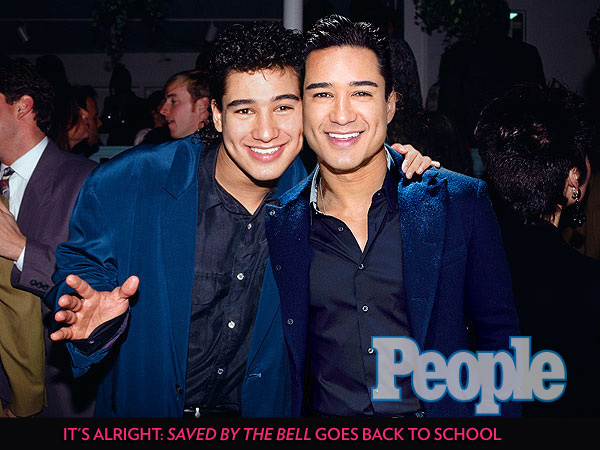 Photo Illustration by Linzi Silverman; Photos Provided by Getty
Mario Lopez: What Would Slater Be Up to Today?