Meghan Trainor
has done a lot of growing up in the past few years. She's older, wiser – and
a lot
more confident about her curves.
"A couple of years ago, you'd never see me in a dress. And now I want to sha-zoom me. I mean, I want it tight," Trainor, 22, says in the May issue of
Seventeen
. "I want to show off what I got! I never was that girl."
Trainor continues: "For a good six years, I wore sweatpants and sweatshirts, even on vacation in 90-degree weather. I was hiding. In pictures, you can just see my face, like 'Help.' I want to hug that girl. I want to tell her, 'You're okay.'"
Yeah,
the Grammy-winner
is more than okay. Though admittedly her love life needs a little help.
"I'm single," says Trainor, who adds her fame isn't helping her cause when it comes to meeting potential suitors.
"It's hard because when I wasn't famous, I got attention. Guys flirted with me all the time," she says. "And then I got famous, and guys won't look at me! And if they do, they're terrified. There was a part where I was just like, 'Yo, am I hideous? How am I not getting hit on? I'm super-cool. I'm super-pretty. I've never dressed better. I should be getting guys lined up!'"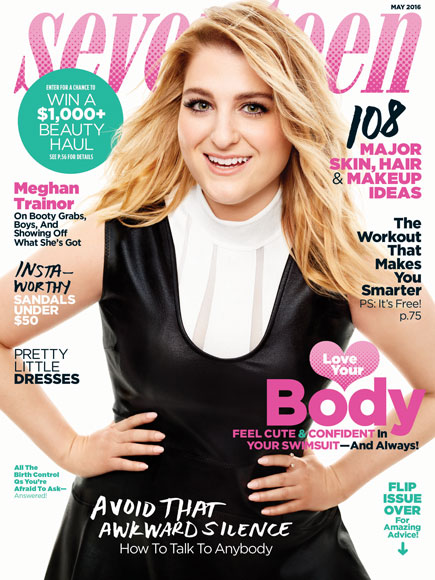 Tom Schirmacher / Seventeen
So what does Mr. Right look like to Trainor? Well, a little like
Leonardo DiCaprio
. When it comes to the Oscar winner, she'd at least like to touch his butt!
"I'm obsessed with him, and I think that would be amazing," says Trainor when asked whose booty she'd like to grab. Though his isn't the only one. "I just wanna know what
J.Lo
's butt feels like because it's the most famous butt of all time," she says.
But don't go getting any ideas, Trainor says her backside is strictly off limits! "A lot of people want to grab
my
butt 'cause they're like, 'Oh, the bass.' They ask, and I'm like, 'Yeah, no thanks.'" More like, no treble.