Melanie Griffith
headed to Italy in the wake of
her split
from
Antonio Banderas
.
The actress, 56, is attending the Taormina Film Festival with her pal
Eva Longoria
. Griffith was spotted Tuesday snapping photos of the quaint Sicilian town while wearing an all-white ensemble – apart from the hot-pink bra and coordinating tote – and without her wedding ring.
Though the heart part of her upper-arm tattoo was still visible, Griffith covered up the ink bearing Banderas' name inside it.
Griffith filed for divorce on June 6, citing irreconcilable differences with Banderas, 53, after
18 years of marriage
.
As recently as last week, the star was
still wearing her wedding band
, when she was seen running errands in Los Angeles.
A source close to Griffith told PEOPLE that the couple, who have a 17-year-old daughter, Stella, have been
dealing with marital problems
for some time.
"The split is not something new and out of the blue – they have had issues for years," the source said. "The fights and separations got to be too much."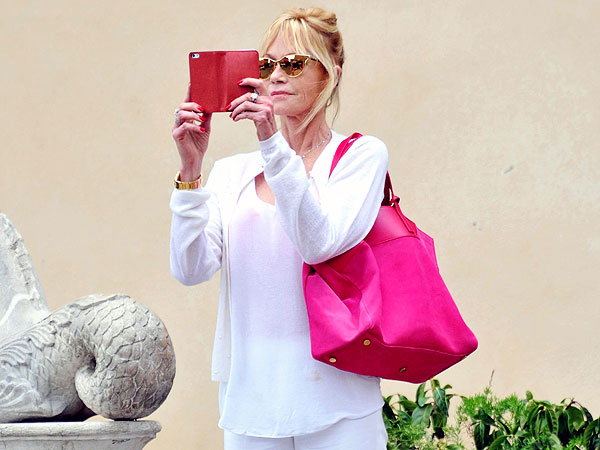 Inside Scoop: Melanie Griffith and Antonio Banderas Split