It's not every day the Nashville crowd dresses up in poodle skirts and varsity jackets. But when
Miranda Lambert
asks you to, you oblige.
"Thanks for being good sports and dressing up for this sock hop," she told guests gathered in a Music City event space Monday night to celebrate her latest chart topper, "Automatic." "I told [co-writers Nicolle Galyon and Natalie Hemby] that if this song went to number one we'd have a sock hop to celebrate, so we did!"
The venue was decorated to look like a high school gym, and Lambert, Galyon and Hemby each wore pastel prom dresses accessorized with demure pearls and wrist corsages – all a nod to the nostalgic sentiment of the song, the singer's seventh No. 1 hit (and her fourth as a writer). The tune is off her new album,
Platinum
.
Just as noteworthy, though, was Lambert's
new bob hairdo
, which her Nashville-based hair stylist dished about to PEOPLE.
"After all her
recent photo shoots
and covers in long hair, she decided she was ready for a change," he said. "But when she sat down in my chair she looked in the mirror and got nervous, so we did kind of a shoulder-draping cut first."
Once she had time to adjust to the first cut, "she was with
Blake
and sat down with his hairstylist and cut off about six more inches," he continued. "She sent me a photo, 'I did it!' It looks very cute like this, but it really looks fierce when she rocks it out for the stage."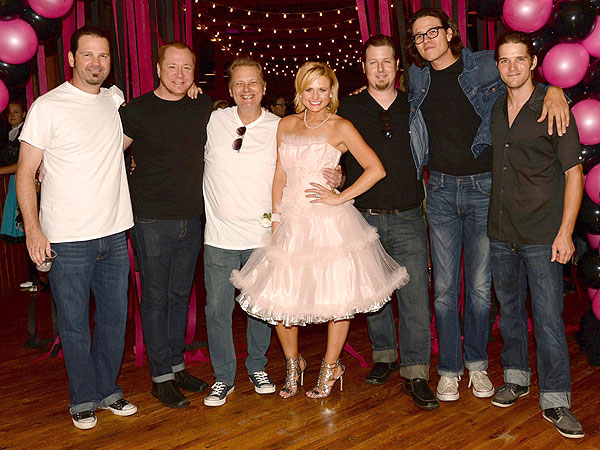 Miranda Lambert Was Nervous Asking Carrie Underwood To Duet