Miss Colombia
Ariadna Gutiérrez
is reflecting on her
Miss Universe experience
.
The runner-up took to
Instagram
on Tuesday to express thanks to her supporters and followers after being
mistakenly crowned
as the pageant's winner.
"After the storm comes the calm," Gutiérrez, 21, wrote. "I want to thank each and everyone of you who have sent messages of support and strength."
The Colombian TV host and fashion model – who will be celebrating her birthday on Christmas – shared two lengthy posts on social media in English and her native Spanish along with photos from the Dec. 20 event.
"Every one of you has become an incredible human being in my book and I am the most fortunate and thankful for having the support not only from one country but from the whole entire world," she continued.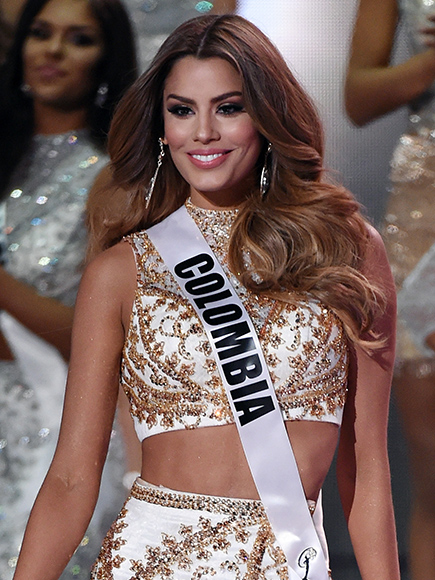 On Sunday, Miss Universe host
Steve Harvey
accidentally announced Miss Colombia as the winner of the coveted crown, when, in fact, Miss Philippines (Pia Alonzo Wurtzbach) was the victor.
"Your destiny is written for you. And my destiny was this. I was able to bring happiness to my country after becoming Miss Universe for only a couple of minutes... Today because of that COLOMBIA and the LATIN COMMUNITY are being talked about in every corner of the world."
Although Gutiérrez did not win, she shared well wishes for Wurtzbach. "I also want to congratulate the Philippines for their new Miss Universe. The happiness that you must be feeling must be incredible," she said.
"Life continues and in the future we will find out why things happen the way they happen. Thank you all for your LOVE SUPPORT and KINDNESS."
Following the Miss Universe crowning, Gutiérrez arrived in Miami on Tuesday morning to spend the holidays with her family.
"Gutiérrez went to Miami to spend a few days relaxing with her family after the incident," a representative for the Concurso Nacional de la Belleza de Colombia
told PEOPLE
. "She wants to spend a few quiet days with her family over the holidays and unwind, and she plans on addressing the media when she goes back to Colombia."
Gutiérrez previously shared
several photos of herself
wearing the Miss Universe crown, to Instagram, writing, "This moment will always be with me #missuniverse #misscolombia #backtoback Lo logramos COLOMBIA!"
Harvey has since apologized to Miss Colombia in person and on Twitter
writing
, "I'd like to apologize wholeheartedly to Miss Colombia & Miss Philippines for my huge mistake. I feel terrible." On Tuesday, he also
tweeted
: "God answers prayers in some of the most unexpected ways."