Chere Rush was a 39-year-old mother with a 10-year-old and 8-year-old twins when she first noticed a small lump in her breast.

After ignoring the initial signs, she was eventually diagnosed with stage 4 cancer and given two years to live.

Nine years later, she is still fighting – not only for herself, but for the benefit of everyone – as she and other women like her work to promote a unique early detection campaign.

Here, the Brentwood, California, mom shares her story with PEOPLE:
I was 39 years old. I wasn't supposed to get breast cancer. Only old ladies get breast cancer. Or at least that's what I thought.
But in 2007, I noticed a pea-sized lump in my right breast. I didn't have any family history of cancer, so I didn't give it a second thought. I went along with my busy life raising three boys. I'd taken time off from working to be a mom while my kids were young, but Colton was 10 and Jacob and Joshua were 8 and I'd returned to work with my own housecleaning business.
A few months passed and I noticed the lump getting bigger, but there was no pain or discomfort so I didn't worry about it. My grandmother has a history of fibroids, so I thought, "Eh, maybe it's a cyst or something."
By month four, the lump was too large and painful to ignore. I had never heard of cancer being painful, so I continued to believe it was something – anything – else and I asked my grandmother to take a look at it. She examined me and was immediately concerned. "You need to get to the doctor as soon as possible," she told me.
Over the next few weeks, she would call me frequently to ask if I'd made an appointment but I kept putting it off. Finally, when it became too painful to put a seat belt on, I decided to get checked out.
My husband, Dave, was there with me when they did the biopsy. "There's nothing to worry about. It's just a cyst," I told him before turning to the nurse. "Right?"
The nurse returned my question with a concerned look.
Tests would show I had a tumor the size of a golf ball. I went in for surgery to remove it but when the doctors opened me up, they discovered the disease had spread. My body was riddled with cancer.
The prognosis wasn't good. I had stage 4 cancer and I was told I had two years to live.
I was in complete shock. How could I go from being a vibrant, 39-year-old mother and wife to having just two years to live?
My husband's heart was broken at the thought of losing me, but the most devastating part was that I would have to tell my sons I was going to die.
I went to my room and cried. I wasn't crying because I was going to die. I was crying because I realized I wasn't going to see my kids grow up. I wasn't going to see them get married, have children. I was devastated.
But the next day, I picked myself up and said, "No more pity party." I have a strong faith and I believe everything happens for a reason. I knew that if I was meant to battle cancer, then I was going to fight every day of my life.
And now I'm not just fighting for myself.
A few years after my diagnosis, I met a woman named Heather McCullough at a Relay for Life event. She was really the first other woman I'd met who was going through what I was. We immediately bonded and decided we wanted to help other women connect like we had.
We started a Facebook group called
Survivor Sisters
to give women a place to talk and encourage each other without having to make plans to meet in person.
Through that group, we discovered that 34 states have breast cancer awareness license plates, but our home state of California was not one of them. It was then that Heather and I teamed up with two of our other Suvivor Sisters – Deborah Bordeau and Heather Solari – to change that statistic.
In 2012, the four of us set out to Sacramento and approached then California State Assembly member Joan Buchanan about the idea of a pink ribbon license plate. Joan graciously agreed to carry our bill and introduced us to another cancer survivor, Carla Kimball, who joined our
Pink Plate
campaign.
We all worked really hard and eventually got our bill signed by Governor Jerry Brown. And now, as long as we get at least 7,500 pre-orders, our plates will be put into production!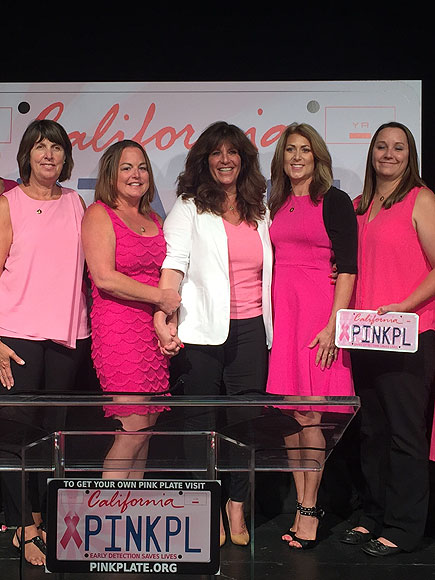 This has been a very personal campaign for me because the proceeds from the plates will benefit the
Every Woman Counts
program, which helps undeserved women who don't have the money or capability to get mammograms and other early detection tests.
Early detection is huge. I put my own self at risk by not going to the doctor earlier. I honestly believe I would not be in the battle I am in now if I'd gotten checked out sooner.
And even though I am technically in remission, I will always have stage 4 cancer. I will take various medications and receive chemotherapy for the rest of my life – or as long as my body will let me. The disease is just lying dormant in my body until it chooses to rear it's ugly head again.
With that in mind, we recently moved out of my kids' childhood home and into a smaller house so my husband will not have to worry about paying for it after I am gone.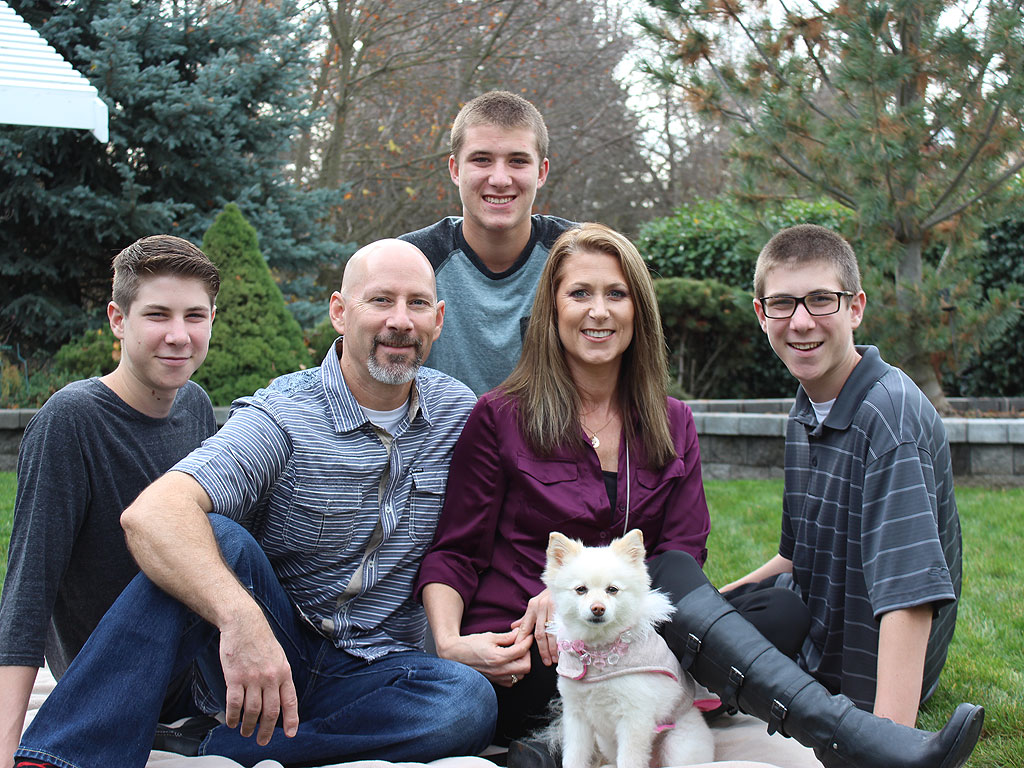 Cancer has forever changed me and my family – especially my boys.
They worry about me every day and spent their childhood with me in hospitals and doctor's offices, but they have also become stronger because of what they've gone through.
One of my sons wants to become a nurse after years spent accompanying me to doctor appointments. Another one wants to become an oncologist and cure cancer entirely.
But they also live every day in fear that they will lose their mom. Colton is at college in Arizona, but the twins both want to attend school closer to home. I think that's because of me.
This spring I will get to see my twins graduate high school. It's a milestone I didn't think I was going to be around for.
I dream of seeing my sons through the next milestones in their lives, but I also dream of living to see our California roadways sprinkled – or even saturated – with pink license plates.
Early detection could have saved me from my cancer battle. And I refuse to give up on the fight to help others from being in my situation.
I'm going to paint the road pink!