Audra McDonald
was blessed with strong arms – and it has little to do with time spent in the gym.
"Everyone always says, 'Do you work out?' And I like to claim that I do – I try to from time to time – but I got my arms from my mother," says the star of
Shuffle Along
on Broadway, which opened to rave reviews. "And she got her arms from her mother who was ripped!"
There is one noticeable trait Audra, 45, clearly
didn't
inherit from her mom, Anna.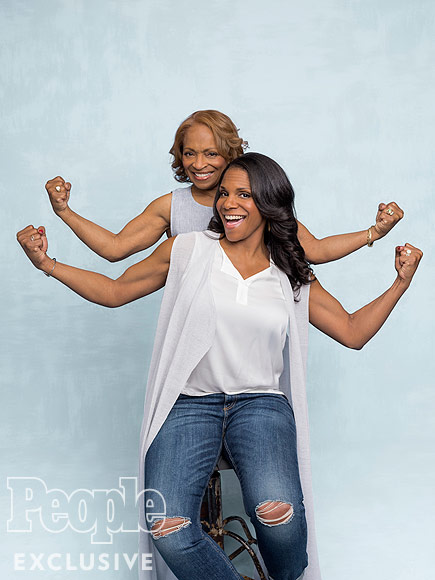 "I didn't get my height from my mother," says the 5'8" actress. "My dad was 6'5½" so she married up in that department. She was determined to have tall children."
"When I saw him, I said, 'You! I want tall children,' " laughs Anna, 70.
•
For exclusive photos of Audra and Anna McDonald, plus more stars and their moms, pick up this week's issue of PEOPLE, on newsstands now
But the retired administrator in higher education – who lives next door to Audra in Westchester, New York – also likes to focus on the characteristics she passed onto her daughter that are below the surface.
RELATED VIDEO: What Vanessa Hudgens Got From Her Mom
"She is a very kind and caring person and I'd like to think she got that from me," says Anna. "She genuinely cares about people and all things."
Audra's incredible singing voice – another trait she got from her mom – is also a source of pride for Anna.
"It's just magical," she says. "That started when she was about 4 years old when she was in a church youth choir and you could hear Audra's voice while the other children were kind of whispering. So we got her started in voice lessons and to see all of that come to fruition, particularly into something she really enjoys now, is really special."
And the feeling is mutual: "My mom's a very independent, accomplished woman." says Audra. "I'll be proud if I end up like her."