They might be radiant stars of equal stature off-screen, but in this exclusive clip from
Mother's Day
,
Jennifer Aniston
shows she's not exactly in
Julia Roberts
' league – at least not yet.
The clip opens with Aniston, who plays frustrated divorced mom Sandy, clumsily rushing toward Roberts, who plays Miranda, a snooty television host with an
Anna Wintour-esque haircut
.
Sandy is late for a job interview, and finds Miranda in the midst of a meet-and-greet with winners of a contest. At first, Miranda's handler brusquely tells Sandy to back off, then Miranda mistakes her for one of the winners.
"I'm not a contest winner," Sandy says as she and Miranda awkwardly pose together for a photo.
"Then why am I hugging you?" Miranda replies icily, her smile evaporating in an instant.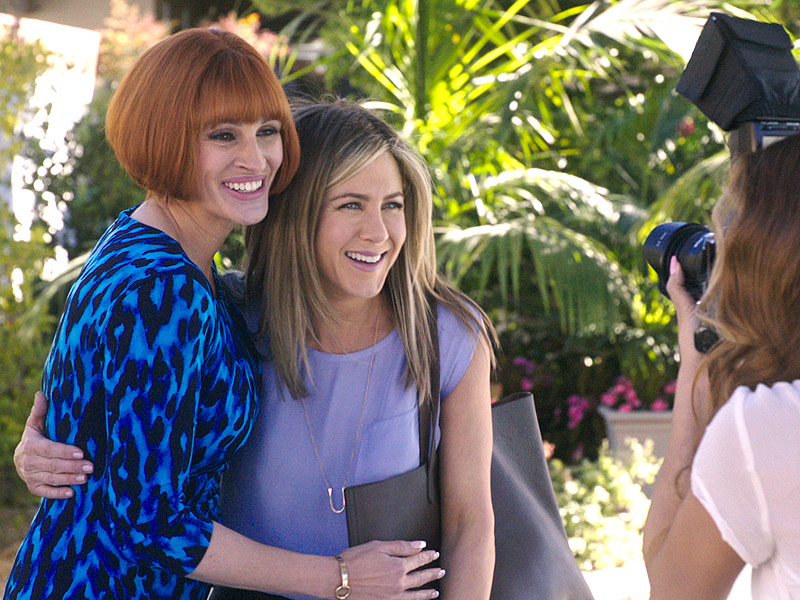 Finally, the group figures out that Sandy is there for a job interview – and she's late. That news sends an already-frazzled Sandy into a fit of inappropriate oversharing.
"I would have been here on time if my ex-husband hadn't married a tween, or if my doctor had called in my child's asthma medication, or if my mother-mobile went faster than four miles per hour on the freeway," she ranted, as Miranda looked on cooly.
"I understand it. I get it: Her time is very valuable, and she's very busy," Sandy continues mockingly. "My time is not."
The clip draws to a close as Sandy discovers her final indignity.
"My bra is on inside-out," she sighs.
Mother's Day
hits theaters April 29.