Together, Nancy Reagan and her husband, 'Ronnie', wrote a White House love story worthy of Old Hollywood. Subscribe now for an inside look at their extraordinary journey and 52-year marriage, only in PEOPLE!The A-Team
star Mr. T was among the many celebrity guests who paid their respects to
Nancy Reagan
as she was laid to rest beside her beloved husband, former President
Ronald Reagan
, in a funeral service Friday.
Mr. T, 63, who partnered with the former first lady on her "
Just Say No
" campaign against drugs in 1983, looked somber in an American flag bandana as he attended the service held at the Ronald Reagan Presidential Library in Simi Valley, California.
The star also paid tribute to Reagan in a
series of heartfelt
tweets on Tuesday, two days after the former first lady
died of congestive heart failure
in her sleep at age 94. Mr. T. called working with Reagan "the highlight of my career."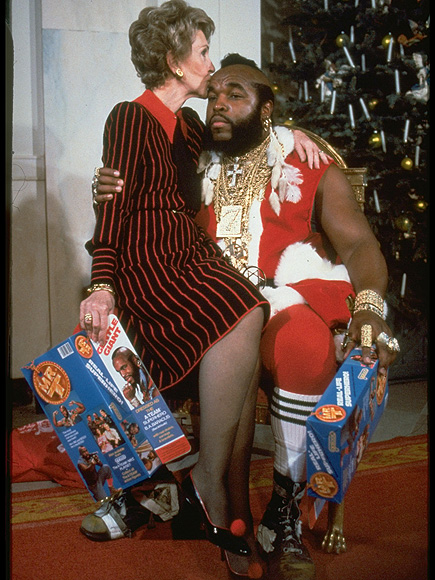 Diana Walker / Time Life Pictures / Getty
"I mourn the death of First Lady Nancy Reagan, who was Very Special to me," he tweeted. "Not only did she invite me to the White House in December '83, after meeting with her and President Ronald Reagan… she then asked me to help her with her 'Just Say No' program which I gladly accepted with humility and honor."
"I will truly miss First Lady Nancy Reagan," he added. "I will never forget her … I will continue her work in trying to keep kids from the dangers of drugs. God bless you first lady."