The debilitating disease of Parkinson's may have "diminished him," but a friend of
Muhammad Ali
says the boxing legend has never stopped fighting.
The sports icon is largely
confined to a wheelchair
85 to 90 percent of the time, his friend Davis Miller tells PEOPLE, but he "still plays with kids even in a wheelchair. He lights up around kids."
"He's 74 and in late stages of Parkinson's and still fights every day and all day long. There's a magic about Muhammad Ali – everything from his elegance in the ring to his sense of humor, which has a childlike quality to it. He connects with the child in us too."
Ali's extraordinary life is at the center of a new exhibit at London's O2 arena,
I Am The Greatest: Muhammad Ali at the O2
, opening on Friday. The exhibit features more than 100 artifacts and previously unseen footage and was partly curated by Miller, who is also the author of the new book
Approaching Ali
, which tells his own intimate story of knowing the boxer for more than 30 years.
Amid the displays of
Sports Illustrated
and
Ring
magazine covers and boxing belts, there's a signed half-length cotton robe embroidered on the back with Ali's legendary statement, "Float Like A Butterfly, Sting Like A Bee." It was worn by his cornerman Bundini Brown at the famed "Rumble in the Jungle" fight against George Foreman in 1974.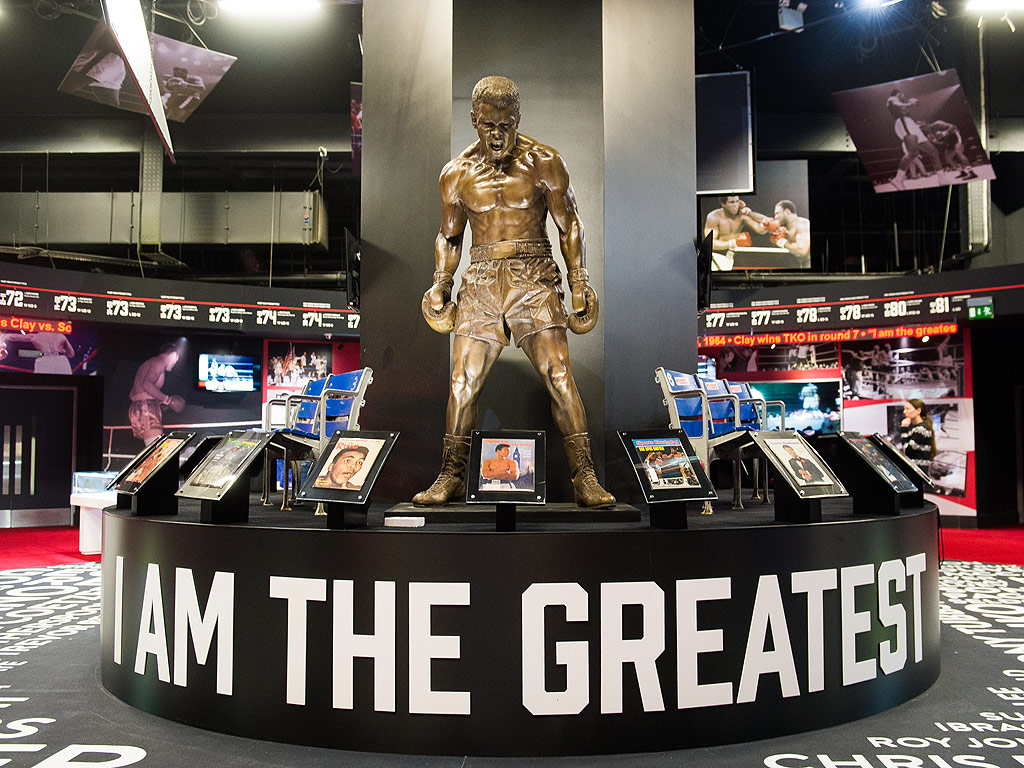 Samir Hussein / WireImage
Poignantly, in London where it became famous, there is also the "split-glove" that Ali wore, and broke, during his 1963 fight against Briton Henry Cooper at Wembley. Boxing legend has it that attending to the split meant that Ali had a little bit more time at the break to recover. He came out for the fifth round and won the contest.
"It's one of the three most famous artifacts in Muhammad Ali's life, and probably the most famous pair of boxing gloves too," says Miller.
"The Brits have a particular affinity for Ali and he has also for the Brits. He has had a very long relationship with the British people going back to the first fight in 1963 here against Henry Cooper, right up to the present day."
There is a growing campaign, backed by British heavyweight David Haye for the star to be given an honorary knighthood. There are more than 20,000 signatures gathered so far on a petition.
Although he faced backlash in the U.S. for his stance on the Vietnam War, "the British didn't see it that way," says Miller. "The rest of the world came to love him and he became a hero."
In interviews and through his well-known quips and often forthright views, he "speaks with quickness and wit and cleverness," says Miller. "He stood up, and continues to stand up, for what he believed to be right."
Tickets for
I Am The Greatest: Muhammad Ali at the O2
, are on sale
here
. The exhibit opens March 4.