Laila Ali
, daughter of legendary fighting champ
Muhammad Ali
, knows her two young children will eventually find out how inspirational their grandfather is – but for now, 7-year-old
Curtis, Jr.
and 4-year-old
Sydney
simply know the smiling man in the wheelchair as their beloved "Papa."
"To them, he is just 'Papa' and I'm mom," Ali, 38, tells PEOPLE of her two athletically-inclined kids. "But my son is starting to understand how great my dad truly was."
The female world champion fighter says little Curtis, a
mini me
to her famous father, was learning about Black History month in school this year and got confused when he saw a photo of a young "Papa" with civil rights leader
Martin Luther King Jr.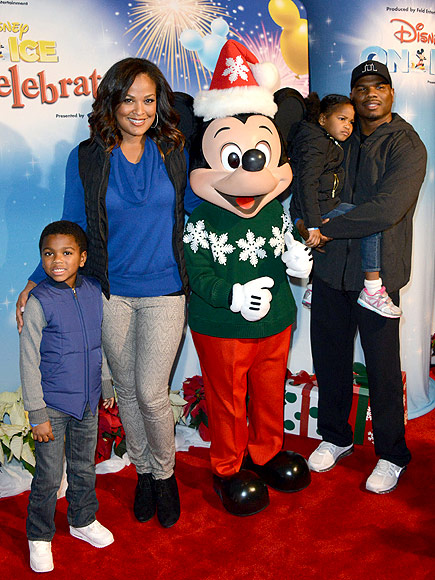 Tony DiMaio / startraksphoto.com
"He knows a grandpa that can't walk or talk anymore, and to see him next to MLK, to him a guy of the past, made him confused," she says. "He was like 'Papa knows MLK, they were together?' It was a surreal moment for him because it placed someone he knows now in history."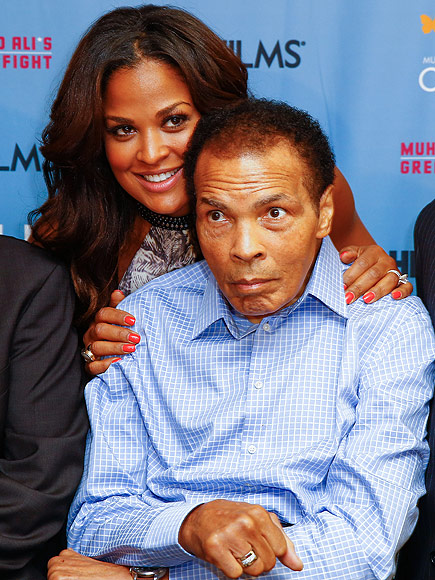 Michael Hickey / Getty Images for HBO
Ali admits it was "a struggle" to watch her son piece together the fact that his grandpa, who has been battling Parkinson's disease for 30 years, was a once-youthful athletic and social champion.
"The next day he came back to me and started talking about death," she says. "He had put together that MLK Jr. had passed away and that Papa might too. He said 'I don't want you to die Papa!' "
The mother of two adds, "It was a tender moment I'll never forget. The emotion was too much for him, he covered his face. He couldn't process it."
Ali says her father is in good spirits and "knows what's going on around him," despite his three-decade long battle against the debilitating disease.
"That man continues to put me in awe. He's such a fighter, still, when at times he seems weak and not able to handle it," she says. "He comes through stronger than ever. He's still fighting regardless and I love my dad for that."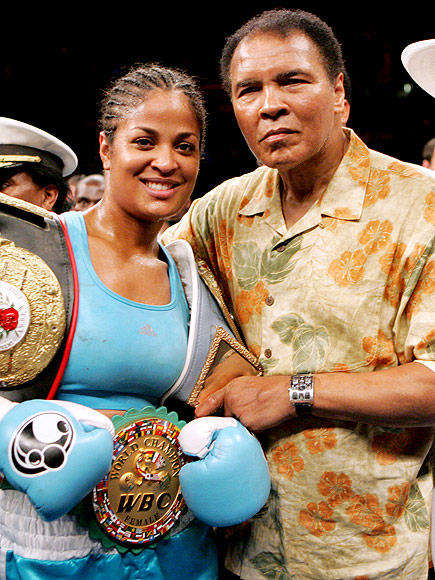 AP Photo / Pablo Martinez Monsivais
Although boxing runs in the Ali family, the undefeated female fighter says she is going to "indirectly discourage" Curtis and Sydney from pursuing the sport.
"I don't want my kids to play that kind of contact sport where you can get hurt," she says. "When I was doing it I loved it and I wasn't concerned about it … but it's my kids! There's no way around it, you're going to get hurt if you box."
Ali says she and her husband, former NFL player
Curtis Conway
, hope their children take up a non-contact game, like tennis.
"We love getting outside and playing sports together as a family, and tennis is great, because you're not going to have the same impact you might get from a sport like boxing or football," she says. "I'm such a fan of the game and of the tennis greats like Serena [Williams]."
Ali, a major proponent of youth fitness, worked closely with the
United States Tennis Association
to promote
World Tennis Day
on Tuesday.
"One of my biggest regrets is that I didn't try out different sports when I was young, especially tennis, which is why I'm encouraging my kids to explore everything," she says. "Tennis is such a good option because you can play as a family for the rest of your life! It really brings us together."
She adds, "I just hope my kids don't feel any pressure about sports. At some point they are going to realize that their mom is a world champion and their grandpa is a world champion. I don't want that fact to affect them."