World leaders, congressmen, celebrities and reporters were among the many people who publicly shared their grief, tributes and memories of former first lady Nancy Reagan,
who died Sunday at 94
.
In statements to PEOPLE, U.S. presidents past and present, and their families, hailed the life and work of Reagan through the years.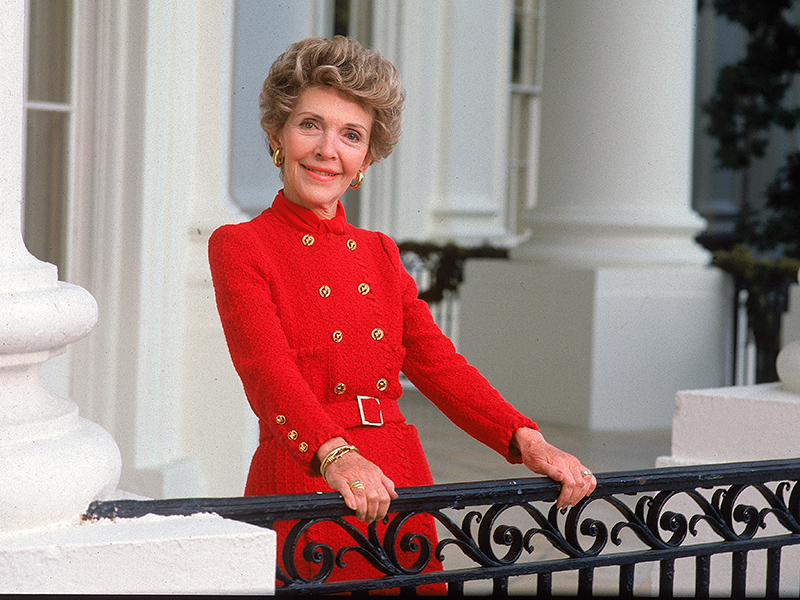 Dirck Halstead / Time & Life Pictures / Getty
Former first lady
Barbara Bush
said, "Nancy Reagan was totally devoted to Pres. Reagan & we take comfort that they will be reunited once more. George and I send our prayers and condolences to her family."
Her son, former President
George W. Bush
said, in part, "Mrs. Reagan was fiercely loyal to her beloved husband, and that devotion was matched only by her devotion to our country. Her influence on the White House was complete and lasting. During her time as First Lady and since, she raised awareness about drug abuse and breast cancer. When we moved into the White House, we benefited from her work to make those historic rooms beautiful."
Former President
Bill Clinton
and former Secretary of State
Hillary Clinton
called Reagan "extraordinary."
"Hillary and I were deeply saddened to learn of Nancy Reagan's passing," Bill said, in part, in a joint statement. "Nancy was an extraordinary woman: a gracious First Lady, proud mother, and devoted wife to President Reagan – her Ronnie. Her strength of character was legendary, particularly when tested by the attempted assassination of the President, and throughout his battle with Alzheimer's. She leaves a remarkable legacy of good that includes her tireless advocacy for Alzheimer's research and the Foster Grandparent Program."
President
Barack Obama
and first lady
Michelle Obama
spoke of Reagan's "warm and generous advice."
"Nancy Reagan once wrote that nothing could prepare you for living in the White House. She was right, of course. But we had a head start, because we were fortunate to benefit from her proud example, and her warm and generous advice," they said.
Their statement continued, in part, "Our former First Lady redefined the role in her time here. Later, in her long goodbye with President Reagan, she became a voice on behalf of millions of families going through the depleting, aching reality of Alzheimer's, and took on a new role, as advocate, on behalf of treatments that hold the potential and the promise to improve and save lives."
New Jersey
Gov. Chris Christie
said, in a statement to PEOPLE, that Reagan "was her husband's greatest source of strength."
"Nancy Reagan was the rock behind one of the greatest leaders of our time," he said, in part. "She was her husband's greatest source of strength through the toughest decisions he made as president. She embodied grace and poise for generations of Americans ... It was a great honor for me and Mary Pat to be welcomed by her to the Reagan Library in 2011 and it will be a memory we will always treasure."
"The Alzheimer's Association mourns the loss of First Lady Nancy Reagan. Mrs. Reagan and President Reagan bravely shared his diagnosis of Alzheimer's disease with the world in 1994. This was at a time when Alzheimer's disease was truly in the shadows and together they began to change the conversation about Alzheimer's disease for millions," Harry Johns, president and CEO, Alzheimer's Association said in a statement obtained by PEOPLE.
"The public disclosure of their Alzheimer's experience created an enormous, and much needed upsurge of interest in the disease from the general public and government officials. It was our honor to work with Mrs. Reagan over the years to raise awareness and inspire progress in Alzheimer's research."
Social media reactions
Meghan McCain
, daughter of
Sen. John McCain
, called Reagan the "epitome of American class and grace."
RIP Nancy Reagan - truly an iconic First Lady and the epitome of American class and grace. pic.twitter.com/CDMaJxSxXW

— Meghan McCain (@MeghanMcCain) March 6, 2016
That sentiment echoed in many social media messages.
I sat near #Nancy Reagan once and felt like a teenager seeing one of my idols. She was a BOSS. #RIPNancy

— Elizabeth Banks (@ElizabethBanks) March 6, 2016
Jimmy Carter's statement on death of Nancy Reagan. #gapol pic.twitter.com/xXdRF2AghN

— Greg Bluestein (@bluestein) March 6, 2016
Nancy Reagan will be remembered for her deep passion for this nation and love for her husband, Ronald. The Reagan family is in our prayers.

— Ted Cruz (@tedcruz) March 6, 2016
Ohio Gov. John Kasich's statement on the passing of Nancy Reagan: pic.twitter.com/1EWpzAY01B

— John Kasich (@JohnKasich) March 6, 2016
Will always remember Nancy Reagan sharing a box of chocolates with reporters in the back of the Reagan Campaign plane in 1980.

— Mark Knoller (@markknoller) March 6, 2016
Rest in peace, Nancy Reagan. She touched the heart of a nation and made the world a better place. pic.twitter.com/BEscm47daQ

— Kevin McCarthy (@GOPLeader) March 6, 2016
With the passing of Nancy Reagan, we say a final goodbye to the days of Ronald Reagan. With charm, grace, and a passion...

Posted by Mitt Romney on Sunday, March 6, 2016
Today our nation mourns the loss of Nancy Reagan, a true example of integrity and grace. My prayers are with the entire Reagan family.

— Marco Rubio (@marcorubio) March 6, 2016
My statement on the passing of former First Lady Nancy Reagan: https://t.co/Hu79iEcuIf pic.twitter.com/nn5KbFJ4fy

— Paul Ryan (@SpeakerRyan) March 6, 2016
.@BernieSanders on Nancy Reagan: "No matter your party or political ideology, this is a sad day for America." https://t.co/ksmxhrScHV

— ABC News Politics (@ABCPolitics) March 6, 2016
Reagan's spokesperson confirmed her passing on Sunday, saying that she died from congestive heart failure in Bel-Air, California.
•
Reporting by SANDRA SOBIERAJ-WESTFALL and HILARY SHENFELD