When
Nashville
's Chip Esten stepped on stage at the show's recreated Bluebird Cafe set on Tuesday, he shook hands with his backing band, adjusted the guitar strap bearing the name of his alter ego, Deacon Claybourne, and grinned wide before flawlessly belting out an aching country tune. (Rayna Jaymes, take note: This man knows how to woo.)
It was the actor's final rehearsal before performing live on the show's season 3 premiere Wednesday night, but he said there are no butterflies, only "excitement."
"It fits well with our show because we try to get across that concept of no smoke and mirrors, just playing music and singing like you see here in town. What you see is what you get," Esten told PEOPLE of performing live. His is one of three live performances that will be edited into the pre-taped premiere, airing tonight on ABC at 10 p.m. ET.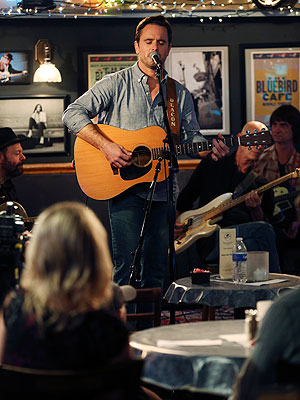 The moment holds special significance for the actor because the song, "I Know How to Love You Now," was one he co-wrote with Deana Carter, and it's the first of his compositions to make it onto the show. "I've been submitting songs since we've started and I came close a couple of times," he said. Show creator Callie Khouri liked it so much that she incorporated the title into his character Deacon's marriage proposal to Rayna in last season's finale – a proposal that hangs in the balance as Rayna (played by Connie Britton) weighs his offer against that of her other suitor, Luke Wheeler.
The finale also left the future in question for Chris Carmack's character, aspiring star Will Lexington, after he finally confessed to his wife that he was gay. Carmack, who will also be performing live tonight, said combining that drama with the live shots will be a complicated bit of television magic.
"There's a lot of moving parts," said Carmack, who, like Esten and special guests
Florida Georgia Line
, will perform live twice, once for the East Coast broadcast and once for the West. "I only have 21 seconds to deliver a monologue so there's this precision that doesn't ever exist in acting. And normally if you perform a full 45-minute set of music, you're not worried if you're a little off pitch, because you've got 45 minutes to make up for it. But tomorrow, if I'm a little flat, it will be like well, s---! No time to make up for it!"
And then there are the more trivial fears. "A nose hair sticking out could derail the whole thing," he joked. "I mean, can you imagine? If it's sticking out, there's nothing you can do!"
The Men of Nashville Read Tweets About Themselves