James Block never thought his "smiley, happy" next-door neighbor could be a killer.
The 53-year-old resides in Cooper Township, Michigan, in a home adjacent to the now-empty house of Uber driver and father-of-two Jason Brian Dalton, the man charged with six counts of murder and two attempted murders in the Kalamazoo County
shooting spree
.
The six fatal victims were Richard Smith, 53, and his 17-year-old son Tyler Smith, sisters-in-law Mary Lou Nye, 62, and Mary Jo Nye, 60, and Dorothy Brown, 74, and Barbara Hawthorne, 68. Abigail Kopf, 14, remains in
critical condition
at Bronson Children's Hospital.
"If someone had said to me, 'Hey do you think you live next door to a mass murderer?' I would have bet my house against it," Block tells PEOPLE. "Until the shootings happened, everything about him I liked. We were close."
Block has lived on the same 5-acre plot of land with his family for 23 years, and says Dalton, 45, moved into the neighboring house 17 years ago. The two chatted daily, mostly about their kids.
"What he did was so terrible, so evil, but up to that point he was just a friendly guy," he says. "I called him my friend. And I cannot figure out what went wrong."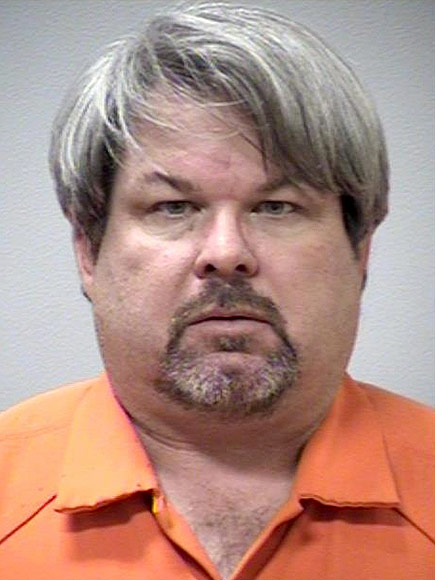 Kalamazoo County Sheriff's Office / AP
Block says he and Dalton talked frequently – the chummy next-door neighbors shared a fence and often did yard-work at the same time, gabbing about their lives.
"He was a really, really talkative guy. Super chatty," he says. "His wife used to say he could talk so much he could turn a ten minute conversation into a 40 minute one. This comes, honestly, as a complete shock."
Neighbor Remembers Last Time He Saw Alleged Shooter
The friends both left their homes at exactly 8 a.m. every morning – exchanging pleasantries and well wishes for the day from their car windows as they pulled out of their respective driveways.
"I drive my daughter to her bus stop and he would be pulling out of the drive going to work," says Block. "He would holler 'Hey Jimmy, have a good day!' and wave at me and my daughter."
Block says the last conversation he had with the alleged shooter occurred two days before the shooting – and it all seemed unsuspectingly routine.
"I said, 'How's everything going with you?' And Jason said he was doing great," Block says. "I've replayed that conversation a million times in my head wondering if there was some sign I should have seen that he would go on a killing spree."
He adds, "But everything seemed normal, it's what we did every single day."
•
Want to keep up with the latest crime coverage? Click here to get breaking crime news, ongoing trial coverage and details of intriguing unsolved cases in the True Crime Newsletter.
Block describes Dalton and his wife and two teenaged children as an "All-American" family that "spent time together outside," mowing and landscaping their 1.5 acres of Michigan land.
"Carol, his wife, would be sitting on a lawn chair or digging plants. Their teenage girl would be mowing the lawn. Jason would be picking up sticks in the yard. And his son would be mowing as well," he says. "He even told me one time he bought an extra lawn mower so that both of his kids could be outside.
"I can picture them so clearly."
Watch @POTUS speak on the #KalamazooShooting and keeping the American people safe. https://t.co/kwtfK65AFQ

— The White House (@WhiteHouse) February 22, 2016
Hours before the rampage occurred, Dalton allegedly walked into a Plainwell, Michigan, gun store and purchased a 5:11 jacket with an inside pocket designed to hold handguns, reports
WWMT
.
Video surveillance from Saturday shows someone appearing to be Dalton "laughing and joking," before buying the jacket and giving the store manager a one-armed hug, according to
CBS
.
At Dalton's Monday arraignment in Kalamazoo District Court, Michigan State Police 1stLt. Chuck Christensen gave a chilling description of the alleged shooter.
"From his responses, there's very little remorse – about anything," he said, according to
WOOD-TV
.
Authorities have yet to determine a motive for the crime.
NEW: Gun shop owner says Kalamazoo shooting suspect visited store hours before rampage https://t.co/Xt2lmZp7ut pic.twitter.com/U2NtcKnYNl

— CBS News (@CBSNews) February 23, 2016
Statement by Shooter's Family: We Are Devastated and Saddened for the Victims and the Families of the Victims
In a statement to the media, the family of Dalton said, in part: "The Dalton family would like to express our deepest sympathies and condolences to the families of the victims of the shootings in Kalamazoo, Michigan on Saturday, Feb. 20, 2016. There are no words which can express our shock and disbelief, and we are devastated and saddened for the victims and the families of the victims. We cannot comprehend the grief which you are feeling, and, while it seems woefully inadequate, we are deeply sorry and are praying for everyone affected.
"We would also like to express our prayers and concern for the two persons who are currently hospitalized. We are praying for both of you, and for your families."