If there's one vital lesson the music world has taught us over the years, it's don't mess with
Nicki Minaj
.
The 33-year-old rapper has cemented herself as a wig-loving, expletive-laden-lyric-delivering, no-nonsense force to be reckoned with. So, naturally, she's had her fair share of feuds with other celebs.
The "Anaconda" rapper has sparred with the likes of
Miley Cyrus
,
Taylor Swift
,
Mariah Carey
and more.
However, Minaj told
Ellen DeGeneres
that she
regrets her past feuds
with fellow stars – "I'm a sweet person, and I don't wanna be mean to people," she said.
Here are a list of stars who have gotten on the rapper's bad side.
Taylor Swift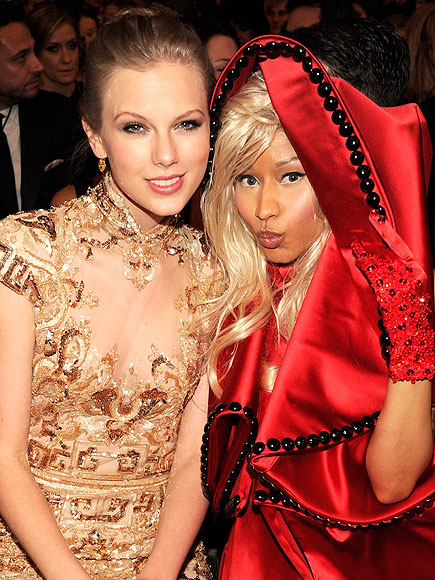 It all started with a tweet. Swift, 26, and Minaj found themselves in a
heated exchange
on the social media site after the rapper
spoke out
about her lack of a nomination for video of the year at the 2015
MTV Video Music Awards
, attributing the snub to racism in the music industry.
Swift, who was nominated,
responded
to Minaj's tweet, accusing the star of pitting "women against each other."
@NICKIMINAJ I've done nothing but love & support you. It's unlike you to pit women against each other. Maybe one of the men took your slot..

— Taylor Swift (@taylorswift13) July 21, 2015
Minaj noted that she made no mention of the "Style" singer and Swift soon called a truce in a
follow-up post
, writing, "If I win, please come up with me!!" (Swift ended up taking home the award.)
The "Blank Space" singer later
tweeted an apology
to the rap star, writing that she "missed the point" of Minaj's tweets.
I thought I was being called out. I missed the point, I misunderstood, then misspoke. I'm sorry, Nicki.@NICKIMINAJ

— Taylor Swift (@taylorswift13) July 23, 2015
The two put all the "Bad Blood" behind them, and Swift joined Minaj
on the VMA stage
in a show-stopping performance.
Miley Cyrus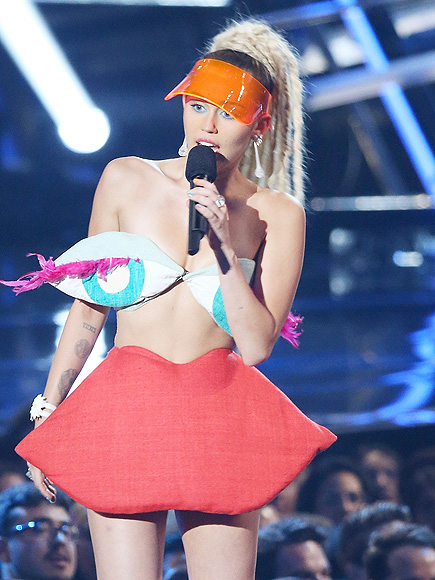 Proving that she is not one to back down, Minaj
confronted Cyrus
at the VMAs (Cyrus hosted the award show) after the "Wrecking Ball" singer called her "not too kind" while commenting on the Minaj-Swift exchange in an interview with
the New York Times
.
"Now, back to this bitch that had a lot to say about me the other day in the press," Minaj said after taking to the stage to receive the award for best hip-hop video. "Miley, what's good?!"
Cyrus quickly
tried to defend herself
, telling Minaj, "We all do interviews. And we all know how they manipulate."
Minaj
addressed the still-unresolved feud
in her
cover story
for the
New York Times Magazine's
Culture issue in October.
"You're in videos with black men, and you're bringing out black women on your stages, but you don't want to know how black women feel about something that's so important?" Minaj said of Cyrus.
Mariah Carey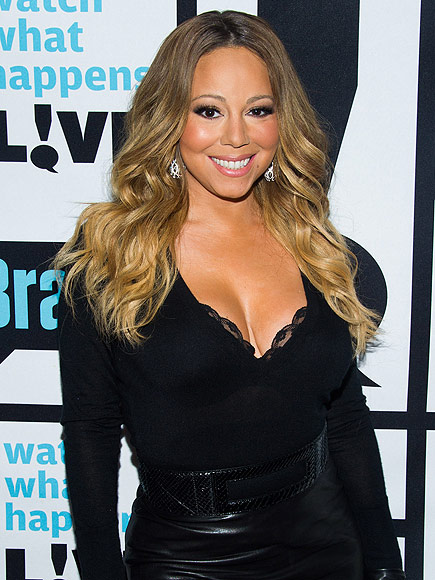 During her stint as a judge on
American Idol
, Minaj warred with fellow panelist Carey – an
Idol
source
told PEOPLE
then that Carey doesn't think rapper Minaj can sing and "doesn't think she should be judging folks."
"Mariah has been saying little things to jab at Nicki from day one of shooting," the source said.
Although other insiders said Carey did not provoke Minaj, a profanity-laced outburst (
caught on video
and posted by TMZ) suggested that Minaj was fed up.
The
once cordial
stars, who have not publicly patched things up, announced their
departure from the show
on the same day in 2013.
Farrah Abraham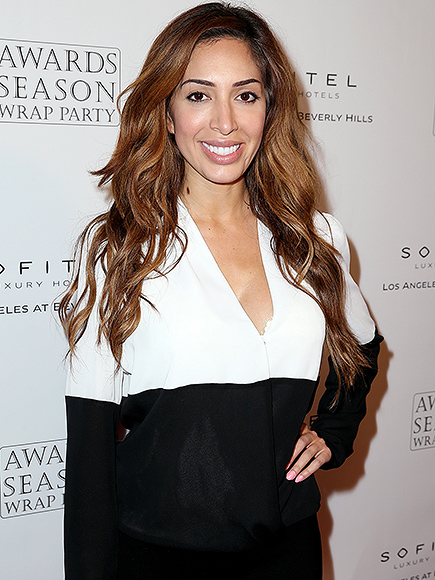 Earlier this year, Minaj
went head-to-head
with 24-year-old Abraham in a NSFW
Twitter feud
after the "Superbass" rapper criticized the reality TV star's relationship with her mother on
Teen Mom OG
.
"Farrah is a c--- to her mother," Minaj tweeted while apparently watching an episode of the MTV show.
Instead of dragging your mother, learn the difference between "you're" & "your", ding bat

— NICKI MINAJ (@NICKIMINAJ) January 10, 2016
Abraham hit back at the rapper,
writing
, "Cause your [sic] a parent right? Your [sic] videos look like porn Horrible good luck being negative #Godbless busy making TV."
To be clear my mom doesn't help me I help her. I love & care for my mom. Stop disgusting talk @NICKIMINAJ pic.twitter.com/JOCLch6kko

— Farrah Abraham (@F1abraham) January 10, 2016
The spat continued with Minaj urging Abraham to treat her mother better: "Be happy she's helping!" Minaj
tweeted
Although Minaj seemed to wash her hands of the feud, a
Twitter video
surfaced, in the days following the feud, of Abraham's daughter Sophia calling Minaj a "total loser."
Lil' Kim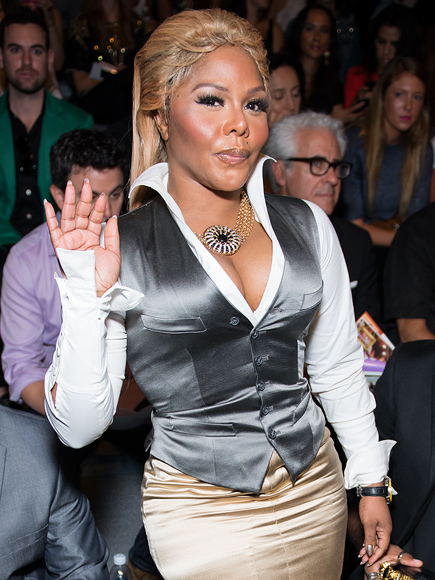 Michael Stewart / WireImage
The Queen of the Barbs was at odds with the Queen Bee early in her career. Kim told New York radio station
The Breakfast Club 105.1
that the rapper stole her sound and her style.
The feud made headlines when Minaj dissed Kim in tracks on her
Pink Friday
album, and Kim responded with a mixtape pointedly titled
Black Friday
.
The diss tracks began flying in the femcee feud, with Kim delivering Minaj-aimed tracks like "
Identity Theft
."
The rap feud died down for some time but was reignited in 2013 when she dissed Minaj again in
her own remix
to
Beyoncé
's Minaj-assisted "Flawless" remix.
BONUS: Demi Lovato
The most recent of Minaj's beefs has been quite one-sided.
Lovato, 23, sent a jab the rapper's way after Minaj failed to mention her in a recent
Instagram photo
from the
2016 Met Gala
on Monday.
"When you aren't mentioned in a post but didn't do s--- to the person …. "Lovato wrote on a Snapchat photo, according to
E! Online
. (Both Lovato and Minaj were dressed in Moschino by Jeremy Scott for the event.)
Lovato took to Instagram, uploading a
photo
of Minaj seemingly sending her a sharp look on the lavish gala's red carpet.
"This pretty much summed up my first and probably last Met," Lovato captioned the picture. "I'm obviously laughing at the fact that 1. I look incredibly awkward and 2. That the shade being thrown in this picture actually gives me life."
Minaj has not commented on Lovato's statements.
Sometimes there's more shit going on than you see. Maybe you DON'T know every aspect of my life so maybe you shouldn't assume you know.

— Demi Lovato (@ddlovato) May 5, 2016
Shortly after the short-lived drama, Lovato slammed critics in a late-night Twitter rant – "sometimes there's more to the story" she
began
.
"Sometimes there's more s--- going on than you see," she
wrote
. "Maybe you DON'T know every aspect of my life so maybe you shouldn't assume you know."