The world's
favorite nononegarian lovebird
is back home!
D-Day veteran Norwood Thomas, 93, has returned to Virginia after a
whirlwind reunion
Down Under with the 88-year-old sweetheart he last saw 70 years ago in wartime London.
"It was wonderful," Norwood tells PEOPLE about reconnecting with Joyce Durrant for Valentine's Day in Adelaide, Australia. Acknowledging that he's now "tired, but getting over it," he says,"I don't know how it could have been better."
Adds Norwood: "Seeing Joyce was the highlight of the trip."
The couple, who found each other over the Internet last fall,
reunited in person
thanks to the generosity of Air New Zealand and a
GoFundMe campaign
.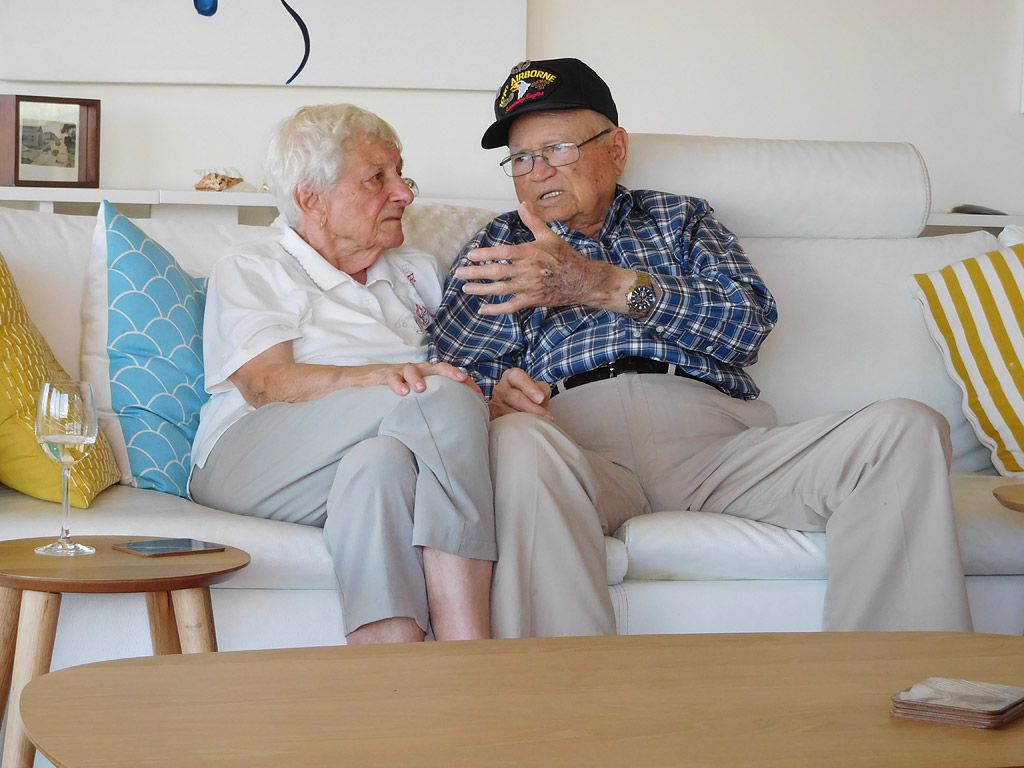 While in Adelaide, the couple reminisced, toured and kicked up their heels.
"We did a lot," he shares.
First on the agenda was for Norwood to replace the parachute jump wings he first gave Joyce before departing for D-Day in 1944. The original wings were stolen from Joyce toward the end of the war.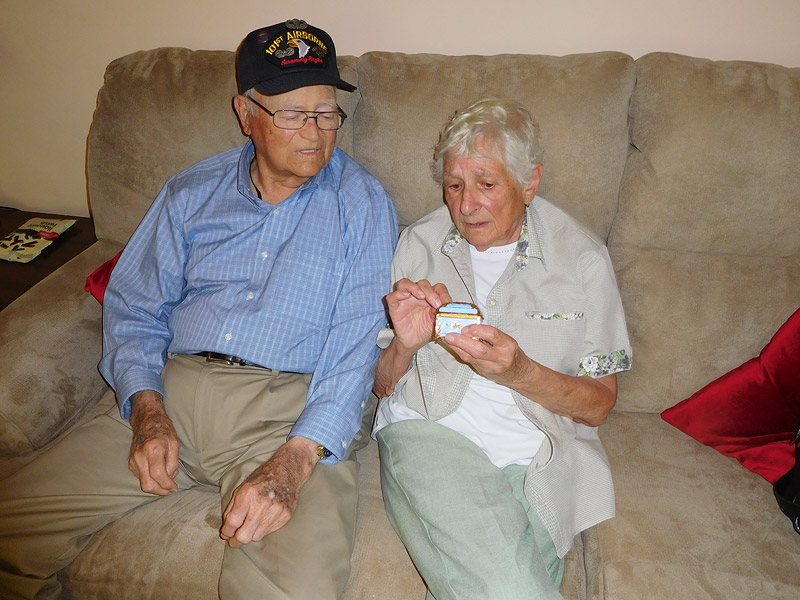 "The wings were the only physical connection she had to Dad," says Norwood's son, Steve Thomas. "She was devastated when they went missing."
Norwood replaced the missing wings with one set that he tucked inside a music box, and another as backup. Joyce stored the music box set inside a glass case, and pinned the other on her clothes while the two were together.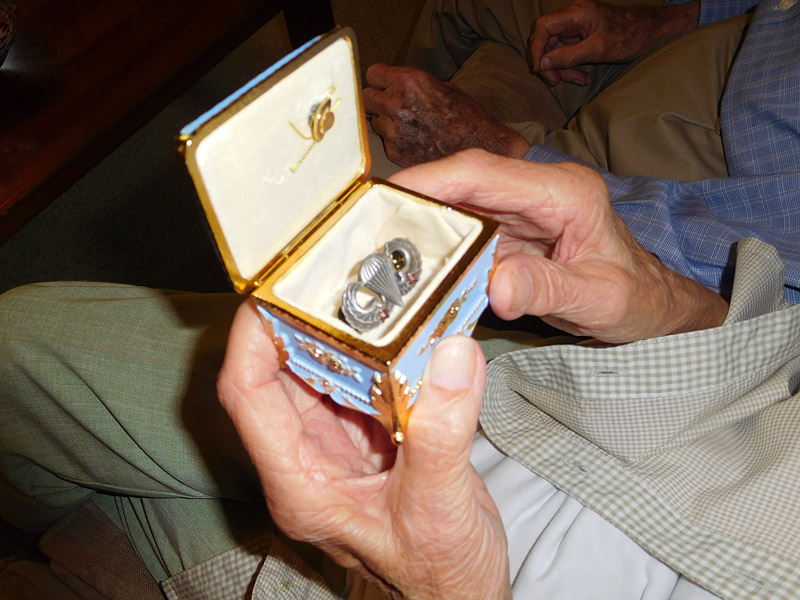 The couple's adventures included visits to a zoo filled with kangaroos, and to an airstrip where Norwood – a pilot – took the controls of a World War II-era Russian trainer in flight.
"We flew 500 feet over Adelaide," he chuckles. "You can't do that here. The FAA won't allow you to fly that low."
Back on the ground, the hotrodding flyboy presented his sweetheart with her first ever Valentine.
Bantering with Australian television hosts in a conversation filled with laughter, Joyce refused to divulge what Norwood inscribed on the Valentine.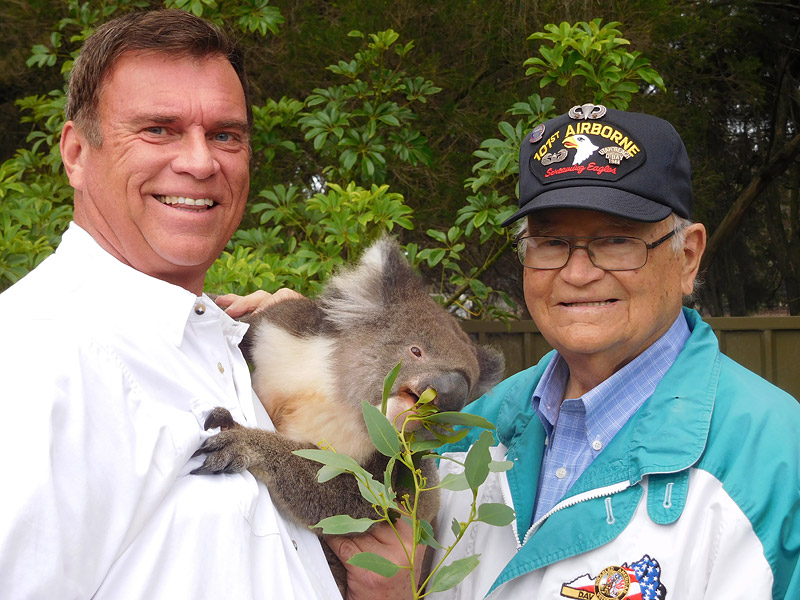 "It's too hot for TV," Joyce told hosts of the Australian television show,
The Project
.
The pair were the darlings of Australia, especially in Adelaide.
"Everywhere we went, people toasted us, or called out to us," Norwood says.
The trip had quieter moments, as well.
The couple reminisced about wartime London, and the bombing raids from German aircraft. At night in Adelaide, Norwood read to Joyce.
She told
The Project
the practice was "lovely, because I can't see very well."
"She would fall asleep on the couch with her head on his shoulder," Steve tells PEOPLE.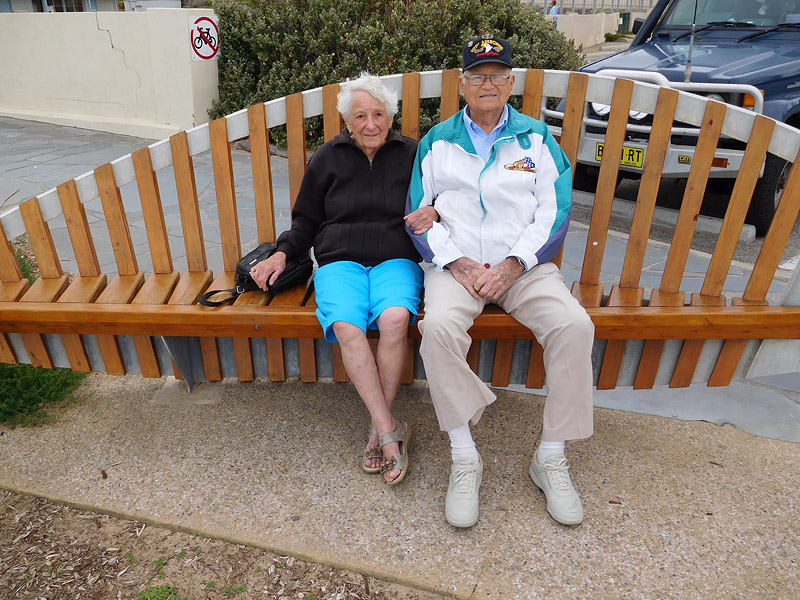 Goodbyes were hard, Norwood says. The couple knows that because of age and distance, they may never again see one another in person.
When asked by PEOPLE about his remarkable wartime service, where he was involved in three major combat engagements (D-Day, Operation Market Garden, and the Battle of the Bulge), Norwood acknowledges that his is an unusual story.
"Not many who made it past the first operation lived to take part in all three," he says.
With that and his reconnection with Joyce in mind, does the 93-year-old have any advice for younger generations?
•
Need a little inspiration? Click here to subscribe to the Daily Smile Newsletter for uplifting, feel-good stories that brighten up your inbox.
"Live for today," Norwood says. "Don't let it get past you."
He does, however, look forward to an event in the near future.
Norwood has an upcoming Skype date to chat with Joyce.