As conflict continues to swirl around the world, the 2016 Olympic Games in Rio de Janeiro will make history this summer when it allows a team of refugees to compete in the elite competition for the very first time.
In January, the International Olympic Committee
confirmed
that a team of refugee athletes would be invited to compete under the Olympic flag, and the group would march together at the Opening Ceremony.
Displaced athletes are receiving help thanks to a $2 million fund established in September,
The Washington Post
reported.
The IOC is currently in the process of identifying promising athletes who could have a shot at qualifying for this year's Olympics. Up to ten athletes are expected to make the cut, according to
The New York Times
.
A number of the athletes are currently seeking asylum, including 17-year-old swimmer Yusra Mardini, whose family has filed paperwork in Germany.
Mardini and older sister Sarah fled Syria in August and boarded an inflatable boat headed from Turkey to Lesbos, a Greek island that has been a safe haven for thousands of refugees. When the boat carrying 20 people began taking on water, the two sisters jumped out of the boat and clung to its side, furiously kicking to safety, the
Associated Press
reported.
"I was not afraid of dying, because if anything happened I could swim to arrive at the island. But the problem was that I had 20 persons with me," Sarah said. "In Syria I worked in a swimming pool to watch people not drowning, so if I let anyone drown or die I would not forgive myself."
The sisters eventually made it to Austria and then Germany before moving into a refugee shelter in Berlin. There, a local charity put them in touch with a nearby swimming club.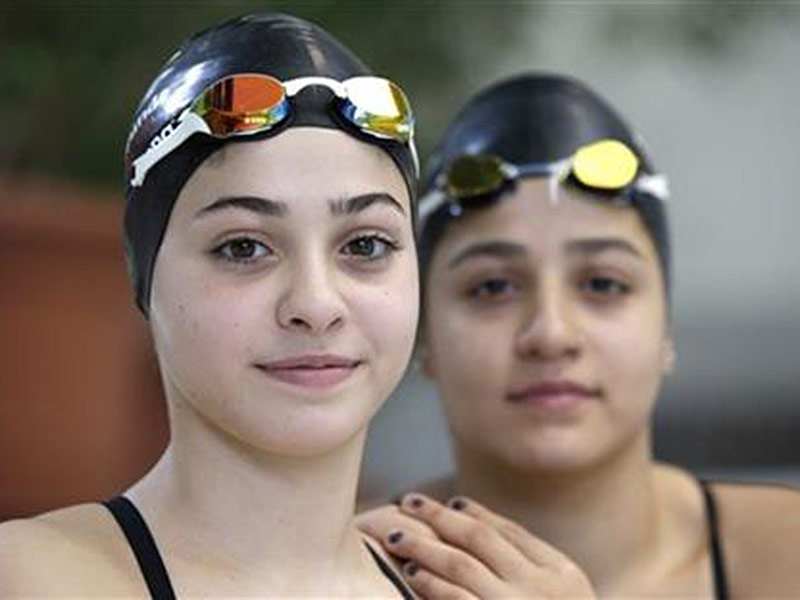 When Yusra shared her dream of one day swimming in the Olympics, a coach named Sven Spannekrebs decided to give her a shot in training. Now the recipient of an IOC scholarship, Yusra is training in a pool constructed for the 1936 games, according to the
Post
.
"There are chances that the Olympic dream might come true for Yusra and her family, which all of our club wishes, but at the same time she is one of more than a million, so let's hope there will be a perspective for all of them, be it here or in their home countries," Spannekrebs told the newspaper.
Organizers hope that featuring athletes like Yusra will help humanize the millions of refugees seeking asylum in nations around the world.
"We want to draw the attention of the world to the problems of the refugees," IOC president Thomas Bach told
Reuters
.
This hope will carry many refugee athletes – including martial artist Yolande Mabika, who fled the Democratic Republic of Congo three years ago and sought asylum in Brazil – through the Olympic trials.
"I cannot fight for my country. I will fight for the Olympics. I will fight for all refugees in the world, to defend all refugees in the world," Mabika told
The Guardian
.
For Mabika, judo offered a literal way out of her war-torn homeland. She and another Congolese judo competitor, Popole Misenga, made a risky asylum bid while competing in the 2013 World Judo Championships in Rio.
"Judo is my life. It helped me escape war, to take another path," Mabika said.
Now, the pair are training together for the 2016 games. The Brazilian Judo Confederation told
The Guardian
that it had provided the pair with uniforms, transport fees, food, and medicine.
Mabika says participating in the Games would be life-changing, but not just in the way it would be for any athlete. She hopes that if she competes in the Games, her family, with whom she hasn't had contact since she moved to Brazil, will be able to find her.
"If my family sees me on television, I can give my number, everything. Because I want one day to talk even with my dad and my brothers," she said. "If I participated in the Olympics, I think it would change my life."