Screams, double takes and applause. That's what greeted
Oprah Winfrey
when she surprised a
Weight Watchers meeting
in New York City Tuesday night.
Only Winfrey's coach and the meeting leader, Lisa Levy Shaub, knew that the lifestyle guru, who was in town for a screening of
her new show Greenleaf
, would be crashing the meeting along with her BFF (and
fellow Weight Watchers member
)
Gayle King
.
"It was kind of hilarious, because we were in the beginning of the meeting, so we had already started, and she came in from the back of the room, so there was a slow discovery, and people were all doing double takes, screaming, but it took a second before it hit people," Levy Shaub, 47, tells PEOPLE. "And there was applause, and people saying, 'We don't believe it!' and hands on their faces, and smiles. It was amazing. It was perfect."
Winfrey, 62, who announced in January that
she's lost 26 lbs.
so far on the program, sat in for the entire meeting.
"It was fantastic, it was clear that she really was interested and wanting to be a part of the meeting, and really see what the meeting experience was like," Levy Shaub, a Weight Watchers coach for almost a decade, says.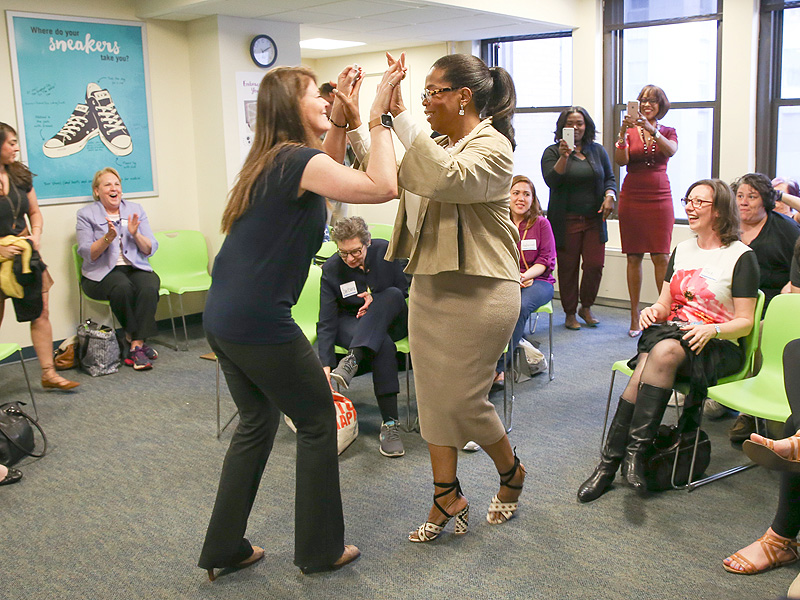 Mark VonHolden / Invision / AP
"And because of that, it allowed the members to really be themselves and do a regular meeting, so even though there was a charge in the room, and I think the buzz and the excitement never really dropped, people were still able to be themselves."



Winfrey shared her relatable struggle with weight loss during a private call with Weight Watchers members in January, and Levy Shaub says it was clear that the other members felt that kinship.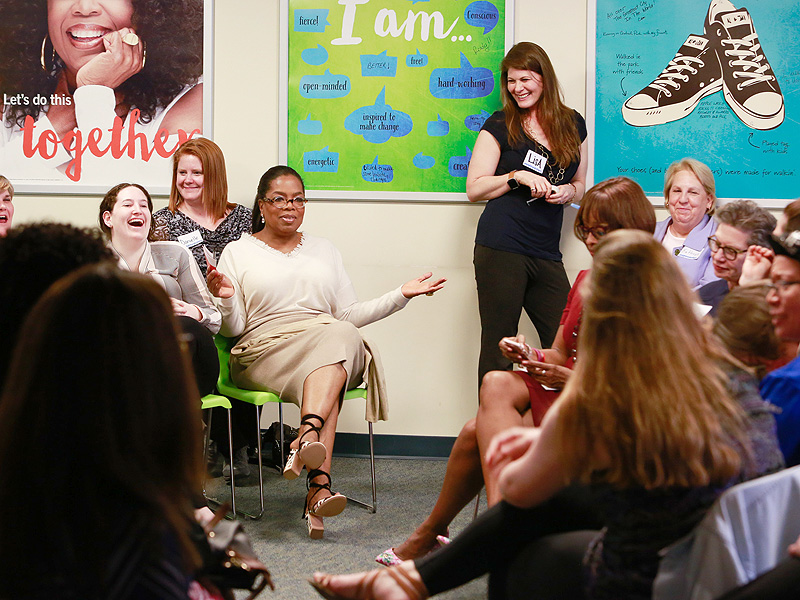 Mark VonHolden / Invision / AP
"The members who are in the room feel that she's one of them, like they're both one of them," she says. "And I think that's really impactful. At the end of the day, it doesn't matter who you are, we're all working on the same thing."
RELATED VIDEO: Oprah Says Weight Watchers 'Felt Like an Intervention From On High'
The entire experience left the members
"glowing,"
Levy Shaub says, which was fitting when you consider the meeting topic that night.
"People were besides themselves, really," she says. "And we're glowing. It's funny because the meeting topic was called 'Glowment,' which is a moment you're so proud of that you glow, and I would say everyone left that meeting glowing. And everyone left that meeting laughing and saying to me, 'You fooled us! You fooled us!' They were so pleased. Beyond. Beyond."