By all accounts, she's one of the most stunning women on television. But in her
new memoir
,
Love, Loss, And What We Ate
,
Padma Lakshmi
reveals there was a time she wasn't so comfortable in her own skin.
When Lakshmi sat down with PEOPLE and
Entertainment Weekly
editorial director Jess Cagle to talk about her new book, she said she was mocked for her appearance as a young girl.
"I was this tall when I was 13 in eighth grade. I had a very long neck, I used to get called E.T., Skeletor, giraffe, you name it," she tells Cagle.
Lakshmi writes about how, after coming to the U.S., she felt Americans would associate her skin color with third world slums, malaria and "the fragrant foods" of her culture.
Because of that, she divided herself into two people: one who felt connected to her roots and one who wanted to look more American.
To feel more similar to her classmates, Lakshmi temporarily changed her name from Padma to Angelique for her four years of high school.
Watch more of The Jess Cagle Interview with Padma Lakshmi on People.com all week.
"You can ask anybody who went to high school with me, they didn't call me Padma," she says.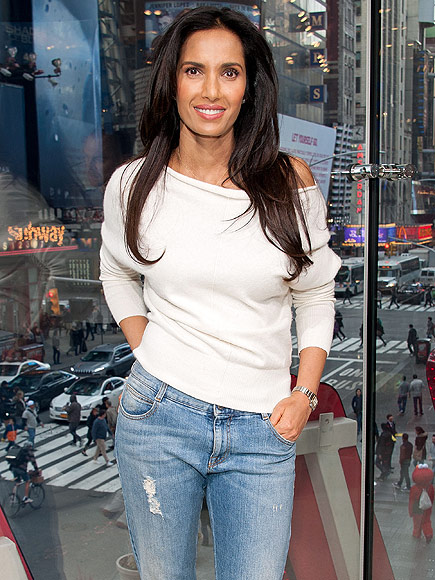 D Dipasupil / Getty Images for Extra
"I didn't feel any different, I didn't feel any less American, even though I ate rice and curry or even though my name was Padma or I spoke to my mother in a different language, I felt as American as anybody else in my classroom. But they didn't feel I was as American."
Although her book encompasses her stories about her love for food and for the men in her life, she says it's also a powerful tale of her life as an immigrant.



"I think you don't have to be Indian to identify with the immigrant experience," she explains. "I think everyone has experienced feeling like an outsider. And it's something that I've carried with me – it's like this invisible shadow that's there because I was always flitting between cultures, so I was never really at home in one, and never really an outsider in the other."