In her new memoir
Love, Loss And What We Ate
,
Padma Lakshmi
reveals that she was molested as a young girl by a relative of her then-stepfather.
"I wanted to talk about it because if women like me don't talk about it, who will?" Lakshmi, 45, tells PEOPLE and Entertainment Weekly editorial director Jess Cagle.
When Lakshmi was seven years old, she lived with her mom in a two bedroom apartment in Queens, New York. At times, she shared a bed with a relative of her then stepfather, which she describes as "a state of affairs that, to people like us, who were used to living far too many to an apartment in India, seemed relatively normal."
"One night," she writes, "I woke up to his hand in my underpants. He took my hand and placed it inside his briefs. I don't know how many times it happened before, since I suspect I slept through some incidents."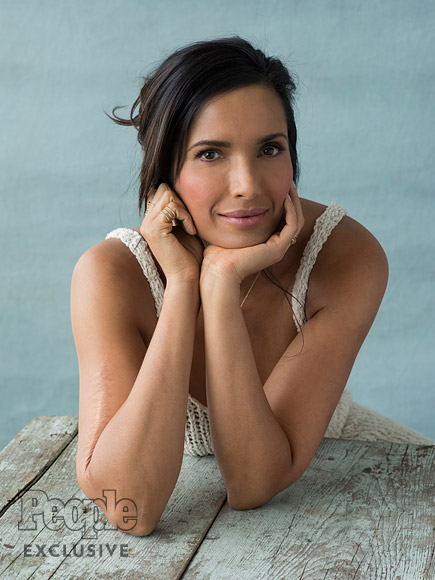 To read an except from Padma Lakshmi's new book, Love, Loss And What We Ate, pick up this week's issue of PEOPLE magazine, on newsstands Friday.
Her mother later realized something was wrong after she discovered her daughter had urinated behind her bed in a sign of distress.
"There was a space between my headboard, the bed and the wall where I'd occasionally toss pink pistachio shells," she writes. "Once I peed in the space, defiling the placed where I'd been defiled."
Looking back, Lakshmi says, "Once you take a girl's innocence, you can never get it back. What I remember more is telling my mother what happened and her believing me and then she and I telling someone else that it happened and that person not believing me. And then the next week, I was sent to India."
When her mother told her husband (Padma's step-father) he made her lie down on the living room divan "to demonstrate by pantomime what had happened."
Watch more of The Jess Cagle Interview with Padma Lakshmi on People.com all week
The next thing she knew, her mother put her on a plane to Madras. "In retrospect however, he should have been the one to go," she writes. "Years later, in tears, my mother would acknowledge this grave mistake."
"It's not something I think about that much anymore," she says, "but it was the catalyst for a lot of things. It was the catalyst for my mother's divorce, for me going to India. It was the catalyst for me being different about my body and just less open in the world. It was a loss of innocence in a way. What happened to me was not even that bad compared to what happens to many young girls and boys. But it was something that happened. I didn't want to dwell on it."
Still, she hopes her story can help others. "I think of all those girls I pass on the street who are in elementary school," she says. "I think about my daughter's classmates or my daughter. It happens more than we think."
"Every time I go to JFK, I can see my apartment with the graffiti on the brick and I wonder what girl is living there and what her life is like," she says. "It was by no means on the scale of what many little girls and boys go through but it did happen."