Padma Lakshmi
is known for her knockout figure, but she believes there was one season of
Top Chef
where she got, well, a bit too curvy.
It was during the 2008 Chicago season, when Lakshmi had to eat every single deep dish pizza appetizer for the show's QuickFire portion.
"At the beginning of the season, there are always anywhere from 15 to 19 contestants and we had to do a deep dish pizza because how can you go to Chicago and not?" says Lakshmi who sat down with PEOPLE and
Entertainment Weekly
editorial director Jess Cagle to discuss her new memoir
Love, Loss, and What We Ate
, which is excerpted in this week's issue.
She had to taste the pizza twice: once hot out of the oven and then again to see how it would hold up upon delivery.
"So fifteen contestants minimum," she says, "two versions of the pizza, and you have to take a couple of bites. And deep dish pizza is rich and deep."
And it wasn't just plain pizza. "They wanna win," notes Lakshmi. "They don't care about my waistline, so there's duck sausage and taleggio and oozing burrata and ground meat, bacon, anything they can shove in there to make it decadent and juicy!"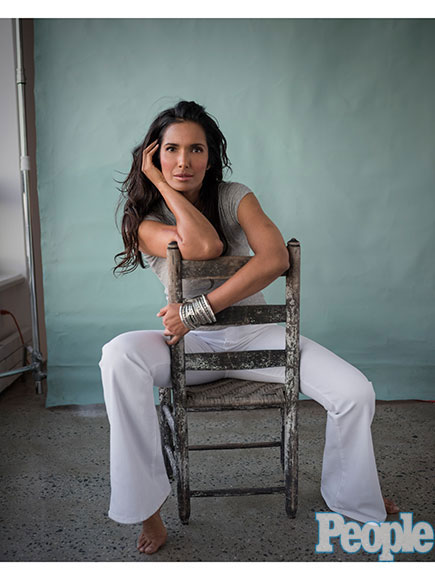 By the end of the season, she'd eaten so much she felt sick – and gained 17 lbs.
And her wardrobe assistant had to buy her dresses in three sizes. "We always had to have a standby dress," says Lakshmi. "I mean, there was a lot of smoke and tape and mirrors and pins."
Watch more of The Jess Cagle Interview with Padma Lakshmi on People.com all week.
Still, as she sees it, it's all part of the job. "It's a lot like a pact with the devil," she says. "It's part of my job and I want to be good at my job! So I have to eat to do my job and I just give myself permission to do that."