In a horrific scene in which a woman was trapped inside a burning car, a group of onlookers grabbed their phones to capture the moment, but one 19-year-old seized it – jumping into action to rescue her from the flames.
"I wasn't really thinking, I just saw her and knew I had to get her out of there before it gets worse," Phillipe Bittar told
19 Action News
after coming to the woman's rescue on Saturday around 2 p.m.
Bittar and his brother were on their way to get some food when they saw the smoke and fire at a Chevron gas station in Beaverton, Oregon, on Saturday. Bittar says he was most surprised by the crowd of people.
"There was like six bystanders just videotaping, like, 'Oh man, she needs to get some help,' " he told the news outlet.
That's when Bittar decided he had to do something.
"I told her, 'Hey, I'm going to pull you out. Get away from the window because I have to break it,' and she's like, 'Okay,' " he said.
After the young man's brave act, medics arrived and took the woman to a nearby hospital.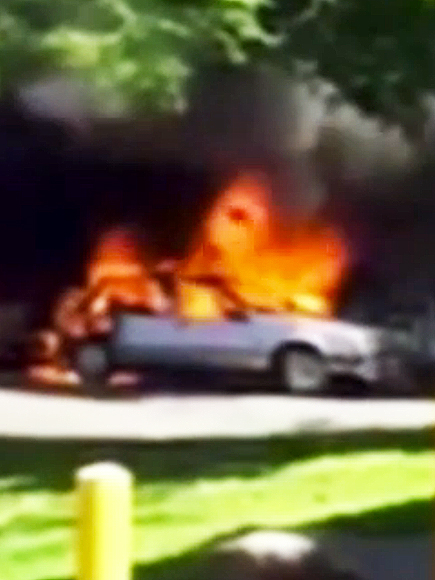 In a
statement
, fire crews described Bittar's actions as "heroic." They said the woman probably wouldn't have survived if the teen hadn't stepped in when he did.
"I just did what any person is supposed to do," Bittar said.
One of Chevron's employees reportedly shut off the gas pump right away, preventing the fire from spreading. The cause of the fire is currently under investigation.
The woman suffered non-life-threatening injuries, while Bittar sustained minor injuries from breaking the car window.