Prince, the legendary singer-songwriter and seven-time Grammy winner, was pronounced dead on Thursday. He was 57. In 1984, PEOPLE sat down with the music icon's frequent collaborator (and later fiancé) Sheila E. to discuss her time working alongside Prince. Read the profile below:
If you pencil in a mustache and pour her vital assets into pegged trousers,
Sheila E.
could pass for her musical mentor, Prince. She has his chilly eyes, sculpted cheekbones and pouty mouth. And if her own black curls weren't frosted, she would be his hair apparent. Sheila has more in common with Prince than smoldering good looks. She shares his record label, his management team, his costume designers and even the bill on his current world tour (she's the opener). But Sheila E. (for Escovedo) is more than just another sultry siren in a long line of pop protégée acts that Prince has molded in his own image. She's a multitalented musician who left a percussionist post with
Lionel Ritchie
for a stab at solo stardom. As her manager told a colleague, "This isn't just Prince. This one writes her own songs."
Of all the sexy women that Prince has beckoned to his artistic court, Sheila E. is the most promising. Her new album,
The Glamorous Life
, seems destined for gold. Its title cut, a percolating brew of synthfunk and Latin rhythms, is a dance-club smash that cracked the Top 10, and this fall Sheila and her seven-piece band sold out club dates across the country – possibly because Prince is known to join her onstage often.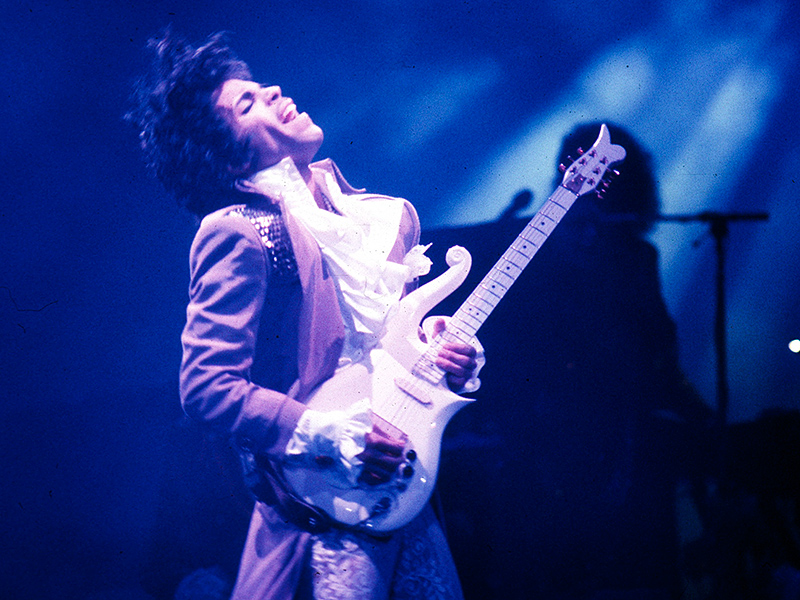 Michael Ochs Archives / Getty
No stranger to show business, the 26-year-old musician from Oakland, California, is the oldest child of Juanita Escovedo and her husband, Pete, a percussionist best known for his work with Santana. Sheila got her first hands-on experience pounding her father's drum kit when she was 5, and by 15, she was drumming with local Latin bands. One night she stepped in when a member of her father's group became ill. "I got a standing ovation," she recalls. "That was it for me – all I wanted."
Sheila dropped out of high school after her sophomore year, went on to record two LPs with her father and toured with such heavies as George Duke, Billy Cobham, Herbie Hancock and Diana Ross. Playing – often simultaneously – congas, timbales, cowbells and cymbals "is very tough physically," she admits. "Sometimes my hands go numb. I look down at the drums and see blood over everything."
Friends for six years, Sheila and Prince regularly swapped musical licks but never played together professionally until last March, when he got her to record with him on a hot-breathing single, "Erotic City." Afterward he told her, "You've been playing behind people for too long. You should just do your own thing."
Escovedo's "thing" has come to look and sound suspiciously like Prince's. Although Sheila dismisses any musical similarities ("We've been friends for such a long time; we've picked up on a lot of the same influences"), there's no denying she's picked up on his stylish funk and raw onstage sexuality. More femme but no less fatale than he, she recently teased a Los Angeles crowd with the brazen come-on, "Would you like to play with my timbales?" Her saucy act prompted a high-minded rebuke from one critic who sniffed, "Sheila E. wasn't any more inspiring than the dancers at adult theaters."
Offstage Sheila's more sedate than seductive. Her Hollywood apartment is adorned with stuffed animals, and she clutched an orange Tootsie Roll Pop for an entire interview. Though rumors of romance between the Prince and the protégée may inspire rock tabloids to purple prose, Sheila is girlishly coy about their relationship. "It's the same as it always has been," she says, barely suppressing a smile. Pause. "We're still good friends."