Lisa Barber's date was showing more skin and wearing more makeup than she was, but no matter. How often did a motel chambermaid from Sheridan, Wyoming, get to spend a night with
Prince
?
It was July 1986, and I had been assigned to cover Barber's date – the grand prize for being the 10,000th caller in an MTV contest – for a cover story in PEOPLE that coincided with the release of Prince's new movie,
Under the Cherry Moon
.
As the MTV winner, Barber won the opportunity to attend the premiere of the movie in her hometown with Prince, followed by a concert at the Holiday Inn, featuring his greatest hits.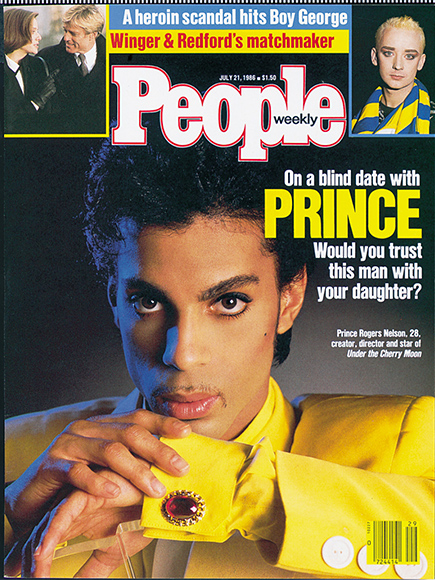 When Prince's Learjet touched down at the Sheridan airport and the passenger door opened, revealing one tiny, high-heeled purple boot, hundreds of small-town Wyoming fans went wild.
The pop star strutted down a red carpet in a purple paisley jacket, which he peeled off and tossed over the fence to the crowd, before waving and blowing kisses. "I'm going to buy a house here," he said to no one in particular as he climbed into a gray-and-black limo.
While Prince hightailed it to the Holiday Inn to warm up his vocal chords, I raced to Barber's trailer home on the edge of town to watch her get her hair and makeup done by the pop star's entourage before the big event.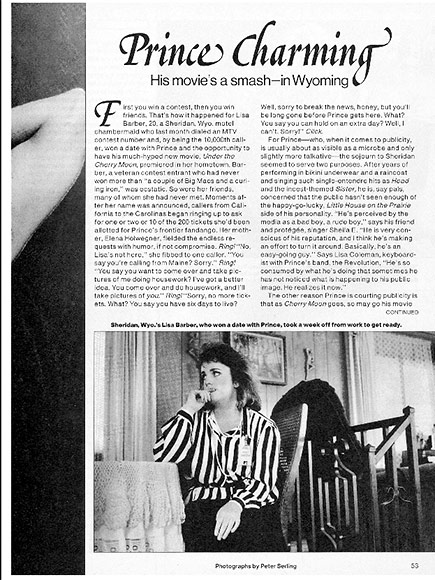 I was there when her date showed up, 15 minutes late, driving a white Buick convertible with "LOVE" license plates. Ignoring the gravel driveway, Prince effortlessly hopped over a chain-link fence in his platforms, knocked on the door and kissed Barber's hand. "Hello, my name is Prince," he said. "Ready to have a good time?"
Flanked by Sheridan's female riding troupe, the Equestrian-Annettes, the couple cruised to the Centennial Twin theater and settled in the back row to watch Prince's movie. "He was a perfect gentleman," Barber told me later, "except for one time during the movie when he put his arm around me and played with my hair. But that's all he did. Honest."
Later that night, the movie crowd spilled into the Holiday Inn after party to watch Prince strut on a specially-built stage and electrify the locals with his greatest hits for 45 minutes. With news that he is now gone, I realize just what a treat it was to watch the pop star in his prime at age 28, belting out "Purple Rain" that night in a small-town motel.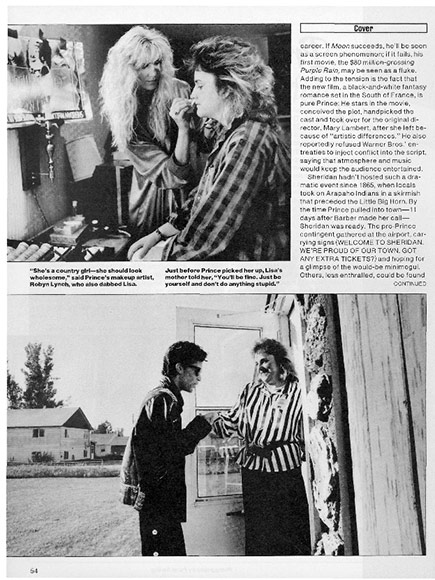 When the concert was over, Prince told me that he thought Sheridan was a pretty place and that he was happy Barber had won the contest instead of someone in a large city. He then presented her with a gold necklace and earrings as a keepsake and drove her back to her trailer.
After he kissed his date goodnight and said goodbye, Barber confessed to me that there was only one flaw in an otherwise perfect evening, involving some costume jewelry Prince had borrowed from her.
"He was a dream date," she told me, "even if he didn't give back my pearls."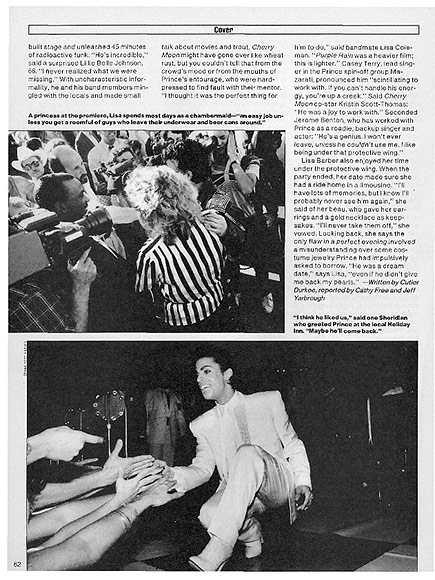 The icon
died Thursday
after being found unresponsive in an elevator at his
Paisley Park
home.