As
Prince Harry
greeted an army regiment's
goat mascot
at an official event in London, his ex-girlfriend Cressida Bonas was wowing photographers across town in a different way.
Bonas, 25, who nabbed her
first film role
last week, stunned onlookers when she stepped out in a backless black top at a charity event organized by her friend and Harry's cousin Princess Eugenie, 24.
"She certainly has spirit," a guest at the party tells PEOPLE of the dancer and actress. "She was completely relaxed, saying hi to friends. She arrived with some girlfriends and spent a lot of time catching up with them."
The Art Antiques London evening was for
Children in Crisis,
the cause set up by Eugenie's mum, Sarah Ferguson, the Duchess of York.
Eugenie, who was later pictured with longtime boyfriend Jack Brooksbank, is immersed in the art world, working for an auctioneers based in New York. As she drummed up interest among socialites and antiques and art lovers, she said she hoped the event would "marry together two interests in my life that can bring a marked change to the lives of thousands of vulnerable and isolated children."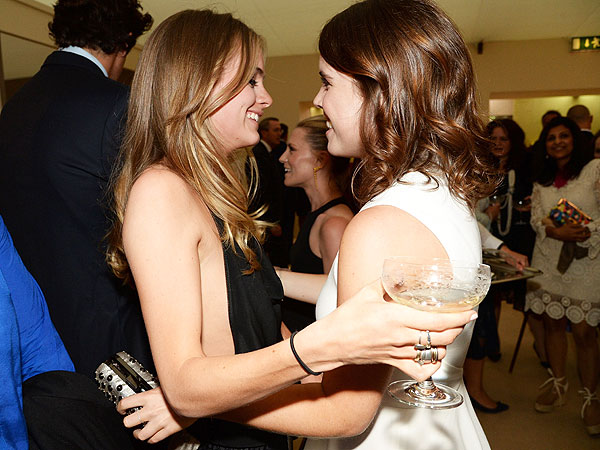 The event, she continued, "will raise vital funds for Children in Crisis to improve the lives of children that currently do not have access to basic education – something we all take for granted. Through education we can give these young people the tools with which to make their own decisions in life."
The event raised more than $277,000 for Children in Crisis, and the charity says it is the equivalent cost of running a community-based education center in Kabul for three years – giving out-of-school children a second chance to learn.
The same amount could also build three robust school buildings in the remote highlands of the Democratic Republic of Congo.
Koy Thomson, chief executive of Children in Crisis, said in a statement: "Education is the key to children's futures and peace in the communities in which they live. We can continue the work we have been doing for 21 years; giving less fortunate children a chance to learn and a chance in life."
Prince Harry, Cressida Bonas Split