Nearly five months after she made headlines for
allegedly misrepresenting her race
, former Spokane, Washington, NAACP leader Rachel Dolezal is back in the public eye after she publicly admitted she was born white.
During an appearance on
The Real
on Monday, Dolezal talked with cohosts Tamar Braxton, Loni Love, Tamera Mowry-Housley, Adrienne Baillon and Jeannie Mai about how she self-identifies as being black.
"I acknowledge that I was biologically born white to white parents, but I identify as black," Dolezal said, revealing that she has seen herself as "being black" since she was "really young." Her statement that she was born white drew applause from
The Real
's audience.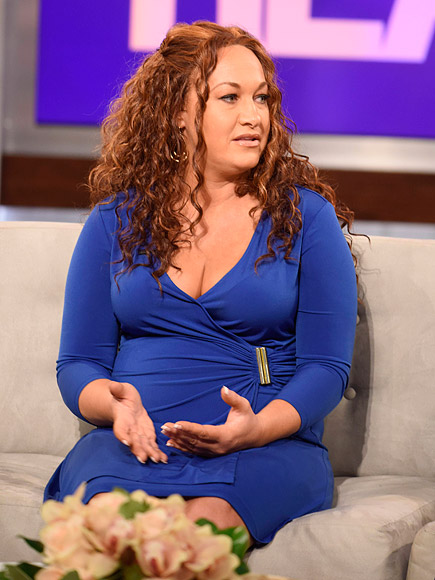 Erica Parise / Warner Bros.
Dolezal also added that other people started identifying her as biracial "around 1998" and that police officers will mark her race as "black" on traffic tickets. Dolezal says that since 2006 she has "self-identified as black."
When asked by Mowry-Housley what being "black" means to her, Dolezal said that "sometimes how we feel is more powerful than how we're born, and blackness can be defined as philosophical, cultural, biological, you know, it's a lot of different things to a lot of different people."
Dolezal has maintained that she self-identifies as black since her story first went public in June. During
an appearance on Today
during that same month, Dolezal said she identifies racially as "human" and culturally as "black."
"I was drawing self-portraits with the brown crayon instead of the peach crayon," she said of her childhood years back in June. "That's how I was portraying myself."
In
an interview with Vanity Fair
in July, Dolezal – who lost her position as the president of the Spokane, Washington, chapter of the NAACP as well as a part-time teaching job at Eastern Washington University in the wake of her scandal – maintained that she identifies as being black.
"I've had my years of confusion and wondering who I really [was] and why and how do I live my life and make sense of it all, but I'm not confused about that any longer," she told the magazine. "I think the world might be – but I'm not."
She added, "I wouldn't say I'm African American, but I
would
say I'm black, and there's a difference in those terms."
While Dolezal's appearance on
The Real
was sometimes met with tense questioning by the panel of cohosts, her rise to notoriety has not been without at least some high-profile support. In
the November issue of Vanity Fair
,
Rihanna
said that she viewed the activist and artist as a "bit of a hero" because she "kind of flipped on society a little bit."
"Is it such a horrible thing that she pretended to be black?" Rihanna asked in the interview. "Black is a great thing, and I think she legit changed people's perspective a bit and woke people up."