Renée Zellweger
's response to PEOPLE about her new look has sparked a deeper conversation about celebrity appearance, personal choices and honesty.
"I'm glad folks think I look different! I'm living a different, happy, more fulfilling life, and I'm thrilled that perhaps it shows," Zellweger, 45,
told PEOPLE exclusively
Tuesday after social media lit up over her appearance at the
Elle
Women in Hollywood Awards in Beverly Hills the previous night.
The Oscar winner also noted that she viewed public interest in her look as "silly," adding that any changes folks see in her are a result of a "growing period" as she slows down and recalibrates to enjoy life in her 40s.
"People don't know me [as] healthy for a while," says Zellweger, who also stepped out on Sunday to
support her good friend and publicist, Nanci Ryder
, in her battle against ALS. "Perhaps I look different. Who doesn't as they get older?! Ha. But I am different. I'm happy."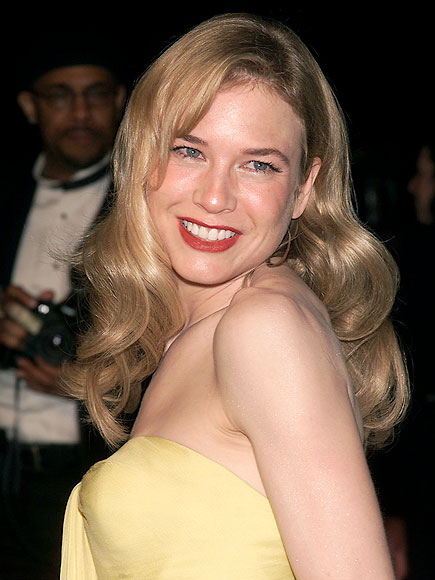 Evan Agostin / ImageDirect / Getty
Many PEOPLE readers rallied around Zellweger's playful comments about her new look.
"I don't know if she had plastic surgery or not but I love her response! She sounds like a lady in her 40s. It's so awesome how you find your true self in your 40s and don't give a damn what people say or think about you! Kudos Renée!" Cynsational said.
Added another, also named Renee: "I'm glad Renée has chosen a healthier and happier regimen for her daily life. Life is too short to always try to please others and live up to 'their' standards. Taking care of yourself should be your priority, and then your loved ones. I do want to say though I wished she had not chose to have such a drastic change in her eyes. Those eyes were her signature, along with her pouty mouth which I loved. But if she feels better about her self, who am I or any one else to judge what is best for her."
Some readers, however, felt she was also sidestepping the "Did she or didn't she?" question.
"I'm delighted Renée is happy. However, there is no doubt she has had a boatload of work done," online commenter Cloud City noted. "If she's so comfortable in her own skin, why did she surgically change herself into unrecognizability?"
Others offered similar pushback.
"Who does she think she's kidding? Being happier and healthier is awesome, but aging doesn't cause an eye lift ... a plastic surgeon does. Renée, good grief! Just be honest!" another PEOPLE reader named Lisa wrote.
Over on
Facebook
, comments ran the gamut from deeply supportive to highly skeptical.
Katie Ann Spenard
: I think she looks different but equally as beautiful. Her statements on being healthy and happy are the only thing that matters. Being in a peaceful place in life should be everyone's goal. Great job, Renee. The people who are being negative don't know what it's like to make huge changes in your life! Keep on keeping on!
Zandra Cooper
: I don't think she looks horrible.... just different. Getting healthy doesn't completely change your appearance though. Glad she's happy but just admit there has been some surgery. Nothing to be ashamed of.
Charity Pack
: I think she looks kinda like robin wright.
Robin Fuller Bates
: She made the same mistake as Jennifer Grey. Unrecognizable!!
Sonia Azizi
: Her body, her mind, her soul. Who cares? Whatever makes her happy
Continue the conversation in the comments section below or on Facebook.